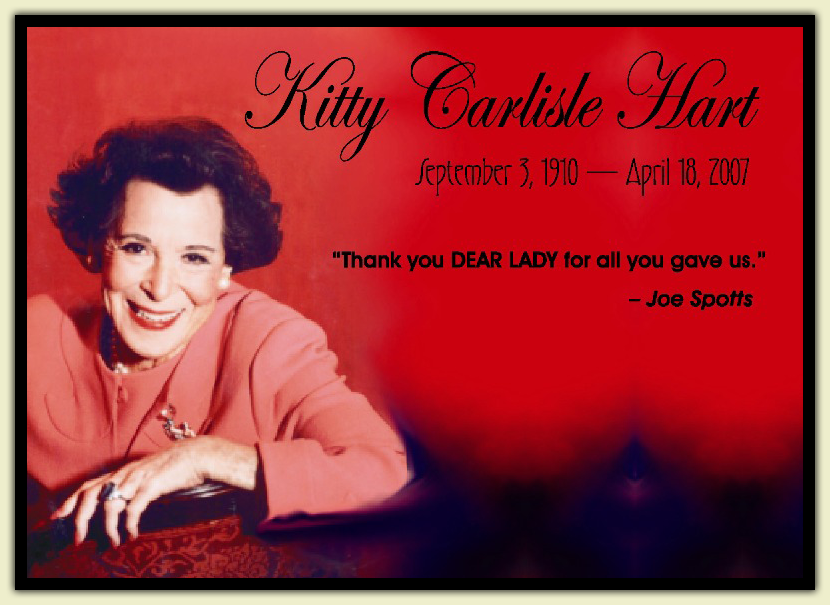 When I saw
this
at
This Blog Is Full Of Crap
, my heart sank:
To tell the truth, Kitty Carlisle-Hart is now appearing as a panelist on "What's My Flatline?"
Leave it to Laurence Simon to write a one-line obit that manages to sneak in references to two of the vintage game shows that were graced by Kitty Carlisle-Hart's presence. "To Tell the Truth," "I've Got a Secret," and "What's My Line?" all featured regular appearances by Miss Carlisle.
Laurence's post - and an e-mail I received shortly afterwards from Houston Steve - were the first I had heard of the death of Kitty Carlisle-Hart.
It was hardly shocking. Miss Carlisle was 96 years old, having lived a life at the heart of American twentieth-century popular culture. Operetta singer, movie actress, stage performer, game show icon, New York socialite, and zealous supporter of the performing arts, she was, until the last months of her life, still performing a cabaret act on stage.
Standing up
, mind you, on what columnist Liz Smith once called "the best pair of legs in New York."
Useless trivia: Born in New Orleans, Carlisle (who pulled her stage name right out of the phone book - her birth name was Catherine Conn, pronounced "Cohen") was the granddaughter of the first Jewish mayor of Shreveport, Louisiana. Whodathunkit?
Among her circle of friends were cultural and political luminaries such as George Gershwin, Irving Berlin, Kurt Weill, Cole Porter, Jerome Kern, Oscar Hammerstein, Frederick Loewe, Harpo Marx, Thomas E. Dewey, and Nelson Rockefeller.
And my very own Daddy, as related
here
.
The Missus and I
met Miss Carlisle
at Reagan International Airport in Washington, D.C. last December. One of those bizarre coincidences. But less than a month later, she was taken ill with pneumonia, and eventually it proved to be too much for her.
IMDB
and
Wikipedia
both feature biographies, and NPR has a
remembrance
posted.
Today, the world is minus one very classy lady. Alas.