With
That 1 Guy
working his way from Florida back to Chicagoland - and swinging by Atlanta on the way - it seemed like the perfect excuse for a few of the Usual Suspects to get together.
And so it was that a handful of us - me,
Zonker
,
Denny
,
RSM
,
Richard
, and (of course) T1G - met at the
5 Seasons Brewing Company
in Sandy Springs Sunday evening to quaff some of the excellent Fermented Beverages there produced, to snarf up a Goor-May meal, and to enjoy the pleasure of our mutual company.
Sissy
(who had suggested the venue) was, alas, unable to join us when the dinner hour approached, citing an excuse us guys have all heard before: "Not tonight - I have a
headache
frickin' migraine." That was unfortunate: She Who Must Be Obeyed used to get migraines, and they are No Fun Whatsoever.
Richard, T1G, and RSM enjoy a brew. Or two.
Denny, grouchy as usual. Heh.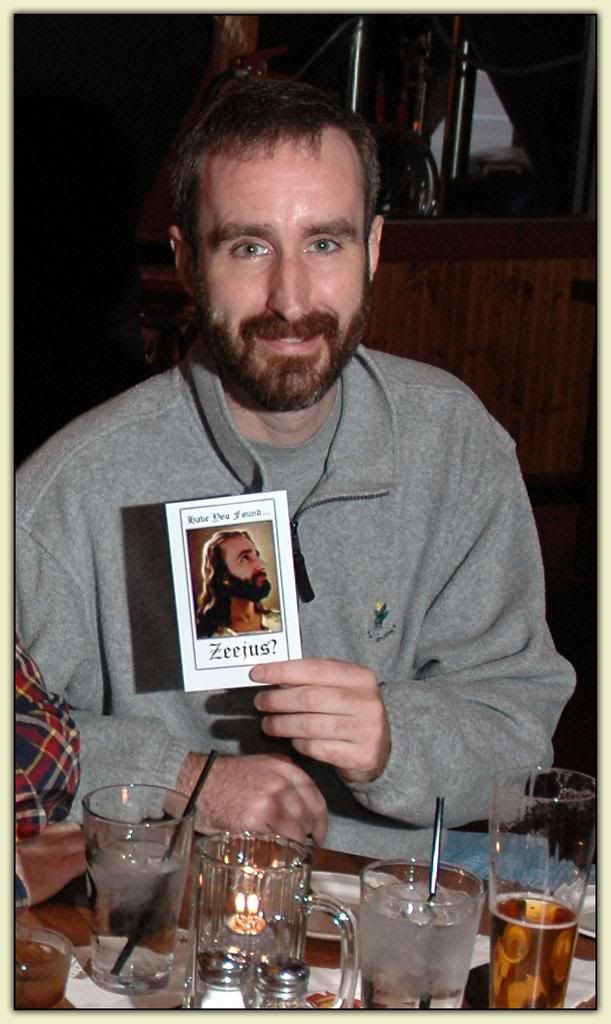 Say hello to my leetle friend.
The food and drink were excellent. I had Duck Two Ways, washed down with a couple of coffee-infused Wired Straight Stouts, all of which was good enough for me to want to bring the Missus back here for a future visit. And it's always a pleasure to spend time with this happy crew of
degenerates
Online Journalists.
And, being the creative guy he is, T1G even came up with a design concept for the T-shirts at the next Helen blogmeet...