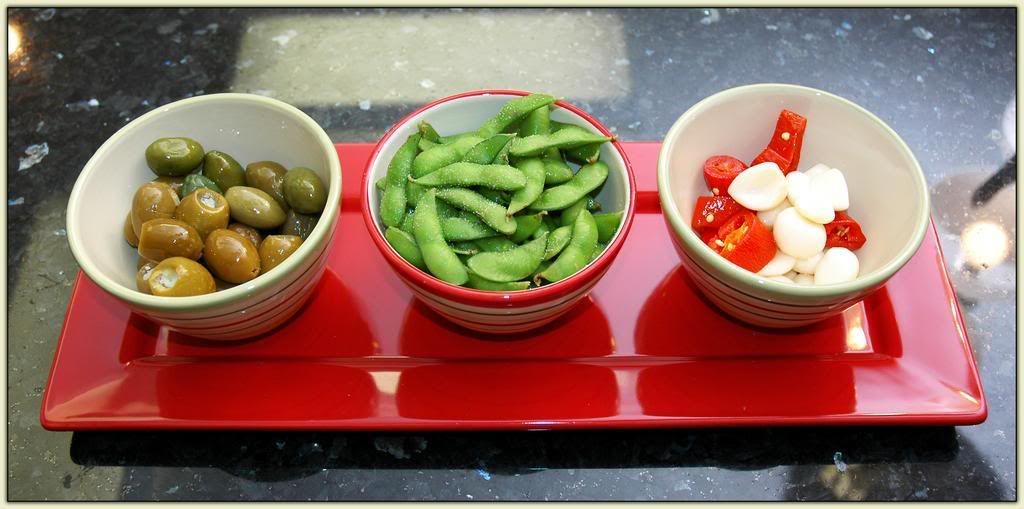 Appetizy stuff: Olives, edamame, and pickled garlic cloves with red pepper.
Our friends Laura Belle and Don came over for a semi-impromptu Sunday Dinner yesterday evening. SWMBO had espied a package of beef tenderloin steaks buried in the Freezer d'Elisson, the nucleus around which a dinner menu condensed.
I had had some Sauce Madére left over from our New Year's feast. It was an easy task to convert it into a rich Sauce Poivrade by adding some cracked black peppercorns. (I "bloomed" the peppercorns in a little bit of hot olive oil to tone their heat down to manageable proportions prior to adding them to the thawed-out sauce.)
Sauce Poivrade, asimmer on the stove.
The Missus and I wanted something light by way of a salad course. I took out my mandoline slicer and shredded a couple of Belgian endives, a small head of radicchio (are there any
large
heads of radicchio?), and a bulb of fennel. Then I shaved some Parmesan cheese and scattered it, along with a handful of dried cherries, on the leafy stuff. A little fresh ground pepper, and voilà! Fennel, Radicchio, and Endive Salad with Shaved Parmesan and Dried Cherries – something that could have stepped right out of the menu at Chez Fancy-Pants. SWMBO, who was not at all sure about this particular salad, ended up loving it, especially when dressed with the vinaigrette she made from sherry vinegar, a little extra-virgin olive oil, some minced raw shallot, salt, and pepper. Superb.
Fennel, Radicchio, and Endive Salad with dried cherries and shaved Parmesan.
By way of vegetabobbles, SWMBO roasted a brace of sweet potatoes, and I roasted some weird cauliflower-broccoli hybrid. Maybe not so weird: Cauliflower, broccoli, Brussels sprouts, and cabbage all share a common wild ancestor. This stuff looked like regular cauliflower, but with a light green tinge. It cooked up nicely, drizzled with olive oil and with some garlic cloves and fresh thyme sprigs scattered over it.
We threw in a Mojo Chicken we had picked up at the stupidmarket that afternoon – hey, not
every
damn thing needs to be from scratch – because the steaks were of that ridiculous four-ounce variety. Four ounces of steak is plenty if you're on a weight-loss regimen, but we wanted to have more protein on the table. Besides, if there ain't any leftovers, you didn't serve your guests enough food, am I right?
All in all, a pleasant Sunday evening with good friends. And now SWMBO has discovered a new salad ingredient: fennel!