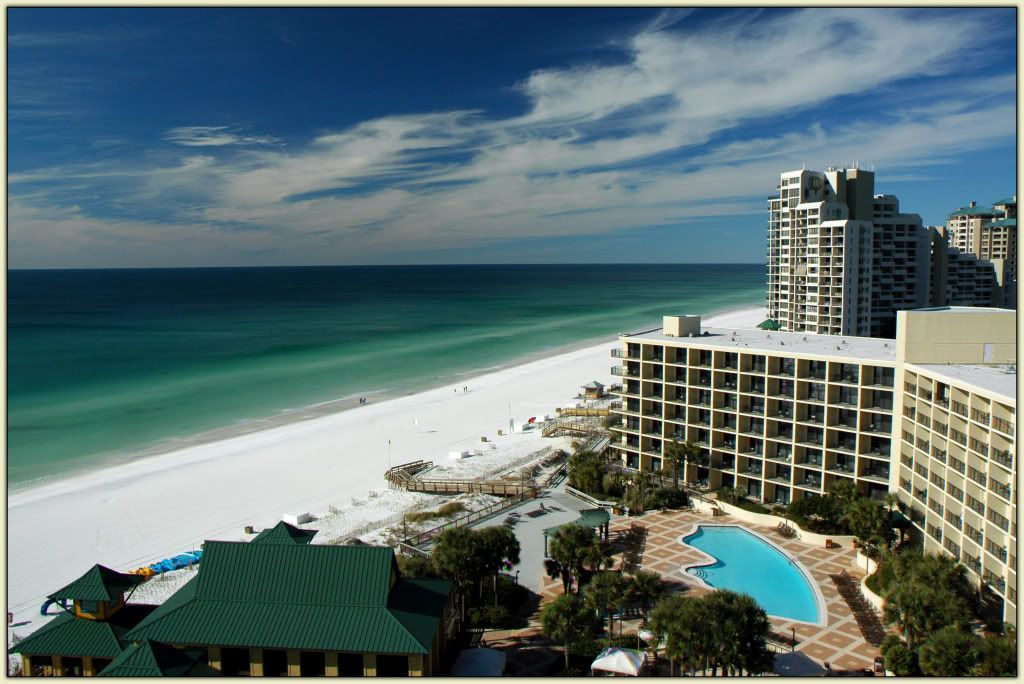 View from the 12th floor, Hilton Sandestin Resort.
It's been our tradition, since returning to Atlanta ten years ago, to spend a week at the beach every summer. The beach, in this case, refers to Destin, located between Pensacola and Panama City on Florida's panhandle. The travel industry folks like to call it the Emerald Coast; it also carries the popular sobriquet "Redneck Riviera." Destin is an increasingly popular tourist destination - perhaps too much so - but it's a fine place to unwind, lie on the beach or by the pool, and drink plenty of Adult Beverages. The water is clear and blue-green, the sand a brilliant white.
Fences serve as windbreaks on the desolate beach.
This year, we decided to check out Destin in the off season, something that our friends Gary and JoAnn have done on several occasions. While we may not have spent any time on the beach - it was
way
too cold for that - we were able to enjoy the place in the absence of all the summertime mobs. We could get a table at any restaurant we chose, no waiting necessary...and as bitterly cold as it was, it was paradisiacal compared with Atlanta, which got hammered by yet another blast of wintry precipitation within hours of our departure Saturday morning.
We eschewed parasailing and sunbathing, instead spending our time at the local shopping venues and the movie theatres...and at the Hilton's excellent spa. A lengthy workout, followed by a Swedish massage and sessions in the whirlpool and steam room, and my heart felt like an alligator. Sure, it's self-indulgent. That's why they call it "vacation"!
There's always time for
narrishkeit
- foolishness - when you're traveling with Elisson. Hey, check out these fine Jackass Pants!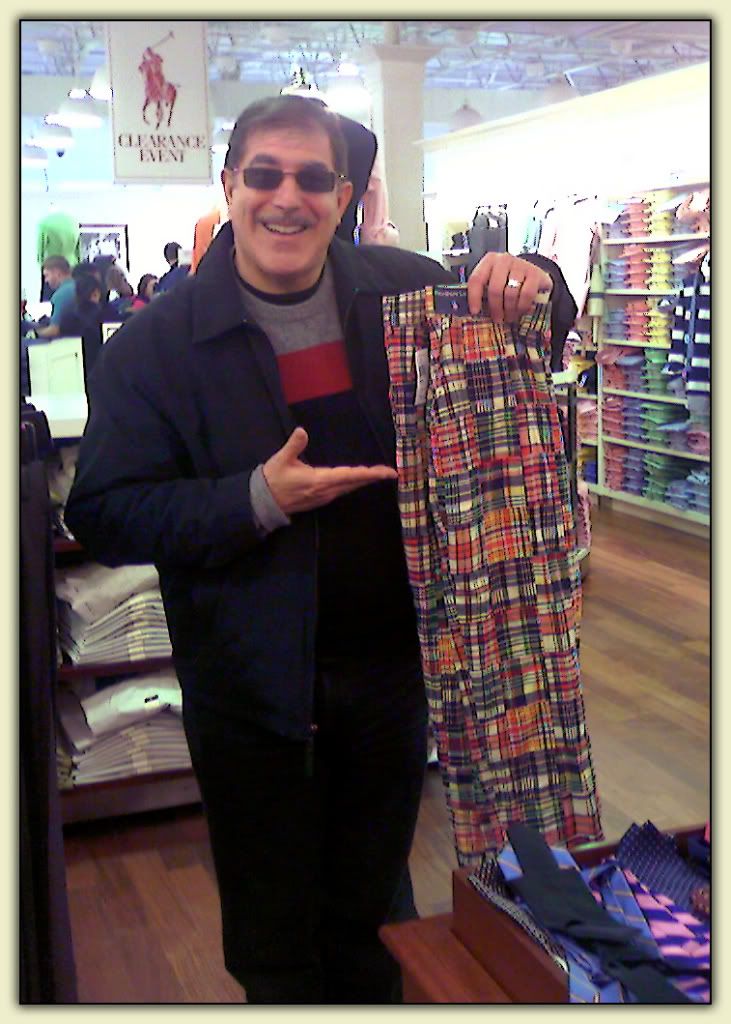 Pants fit for a Jackass.
And there's the inevitable visit to the Kitchen Supplies store, the perfect place for a Colander Borg-Man Photo Op: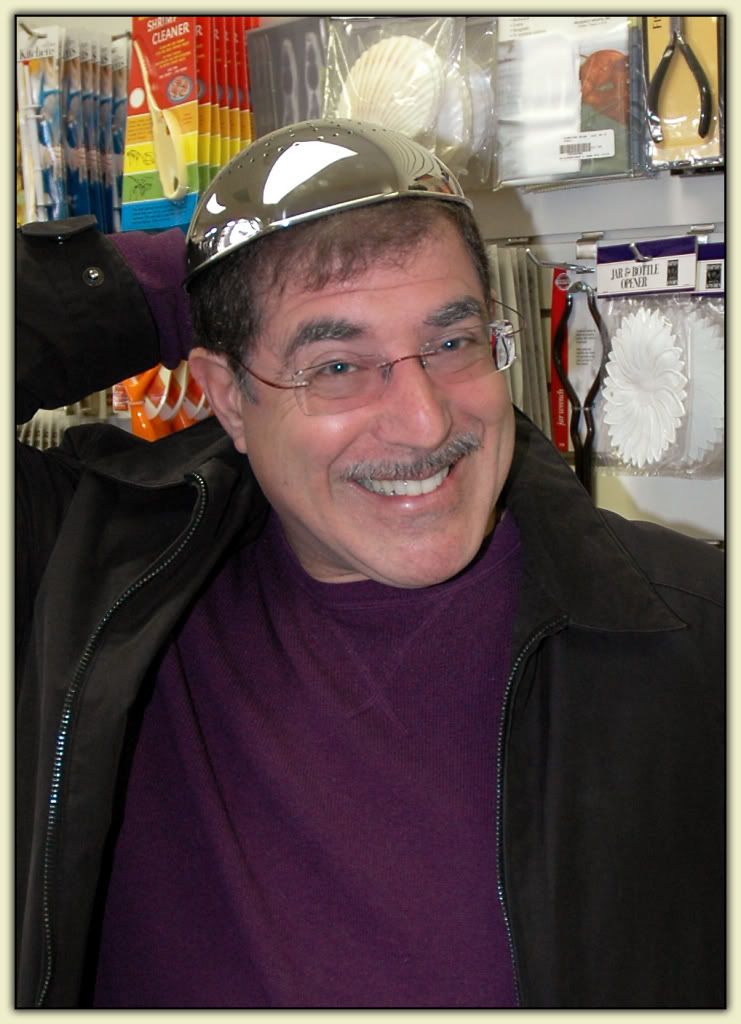 Fine Metallic Headgear at Bargain Prices!
One of our favorite places is facing the wrecking ball. Favorite not because we've ever stayed there, but because I can't resist bellowing its name in a Sydney Greenstreet and/or John Housman voice whenever we drive past it...
<SYDNEYGREENSTREET> "Murmuring Surf!" </SYDNEYGREENSTREET>
And the surf was indeed murmuring...practically whispering. The Gulf was preternaturally calm until the morning we left, its surface a sheet of sparkling glass from horizon to horizon, its shores bereft of the usual hordes of sunbathers.
A becalmed Gulf of Mexico sparkles with multicolored fire in this Harris Shutter image. [Click to embiggen.]
We went downtown to AJ's for dinner Sunday evening. During the summer months, the place is packed to the rafters and you can barely hear yourself think. Not now.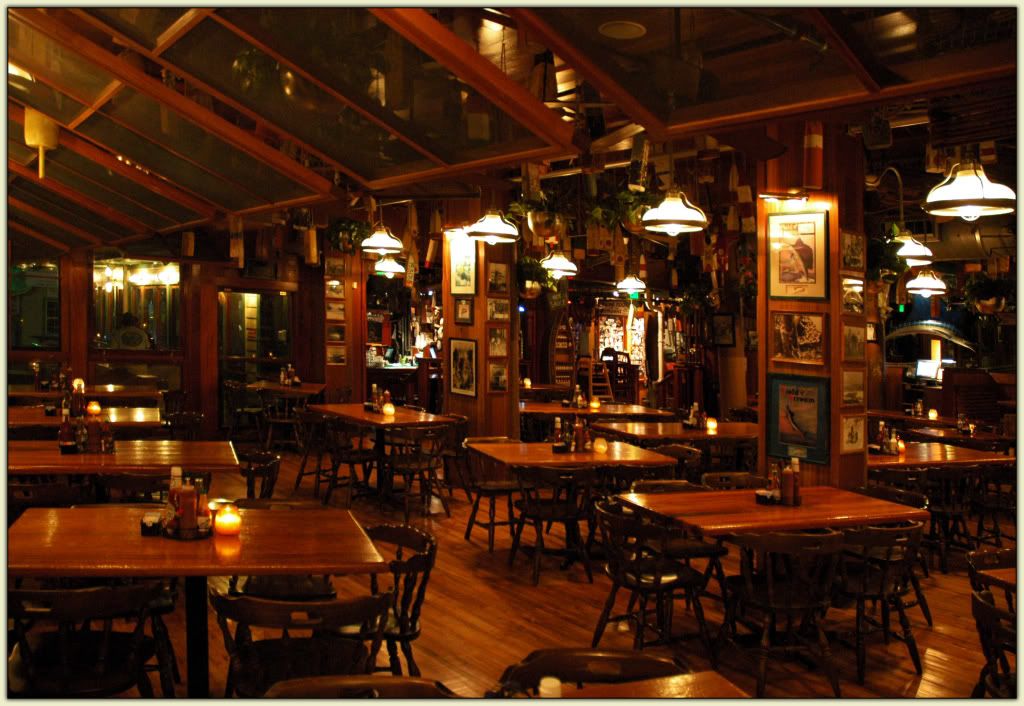 Magnificent desolation at AJ's.
Except for perhaps one or two other tables, we had the
whole fucking place to ourselves
. Yowza!
Me and the Missus.
Gary, looking unusually serious.
Monday morning, it was off to Baytowne Village for a quick breakfast. There was, astoundingly, a skating rink set up there, where you could skate to your heart's content for less than a sawbuck. Not too many takers, we noticed.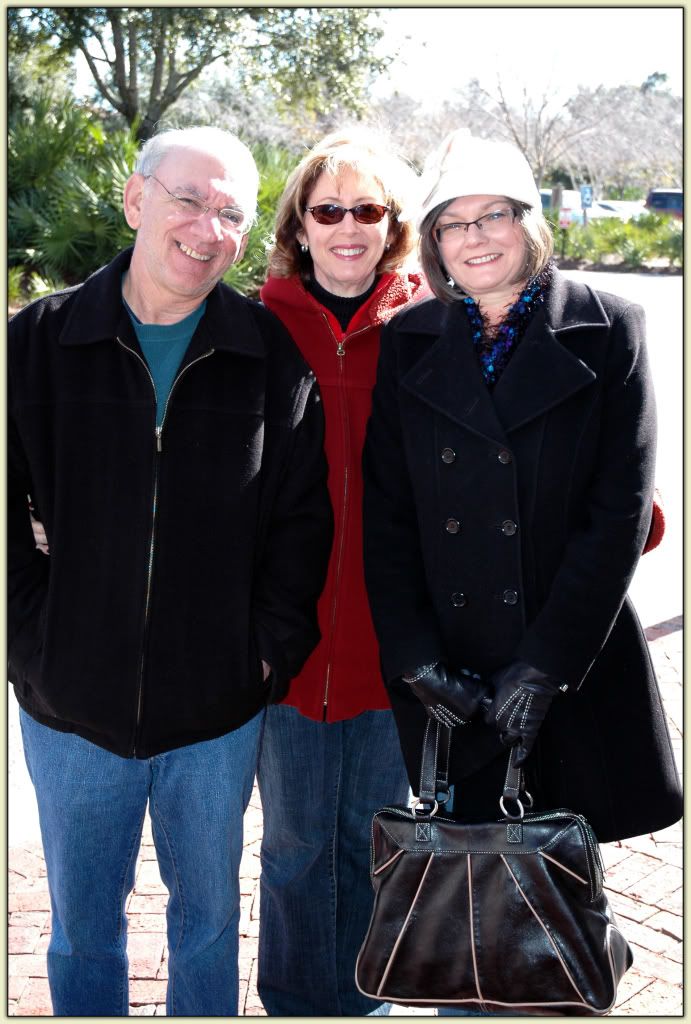 Gary, JoAnn, and SWMBO at Baytowne Village.
"Will you hurry up and take the Gawd-damned picture? We're freezing our asses off!"
And then it was time to make the five-and-a-half hour trip back home, where a few patches of unmelted snow lingered in shade-protected spots. It had been a good weekend to be away...
...and we'll look forward to our next Destin sojourn in mid-June.
Sunrise in Sandestin.