The Momma d'
Bou
, in a comment made on a prior post, requested some side-by-side Before 'n' After shots of our renovated kitchen...and as I am an obliging sort, I am happy to provide them forthwith.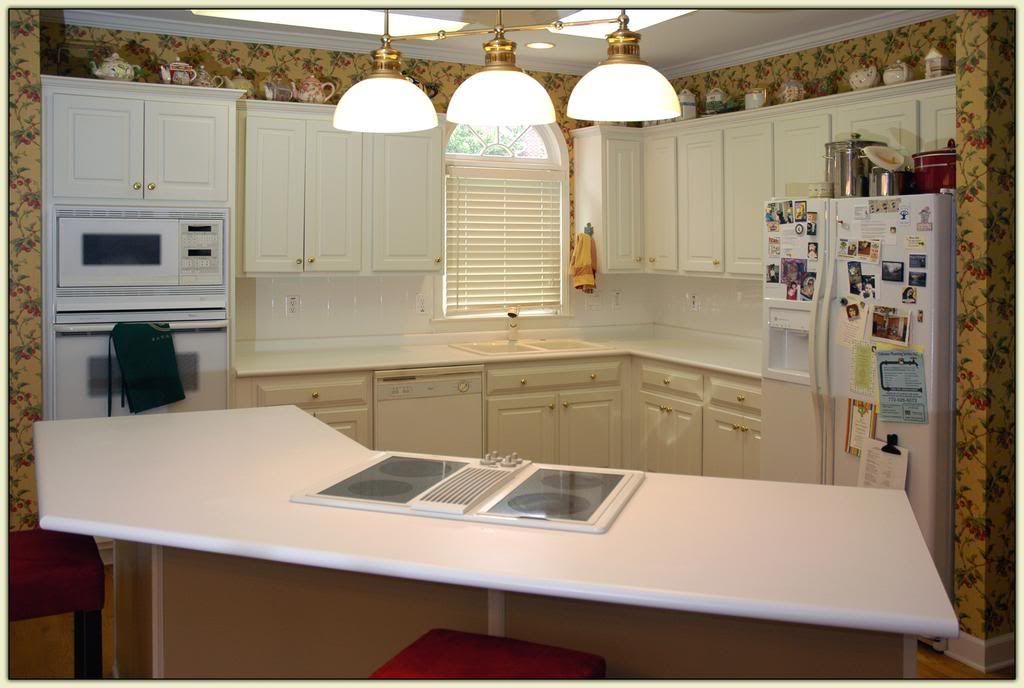 Before. [Click to embiggen.]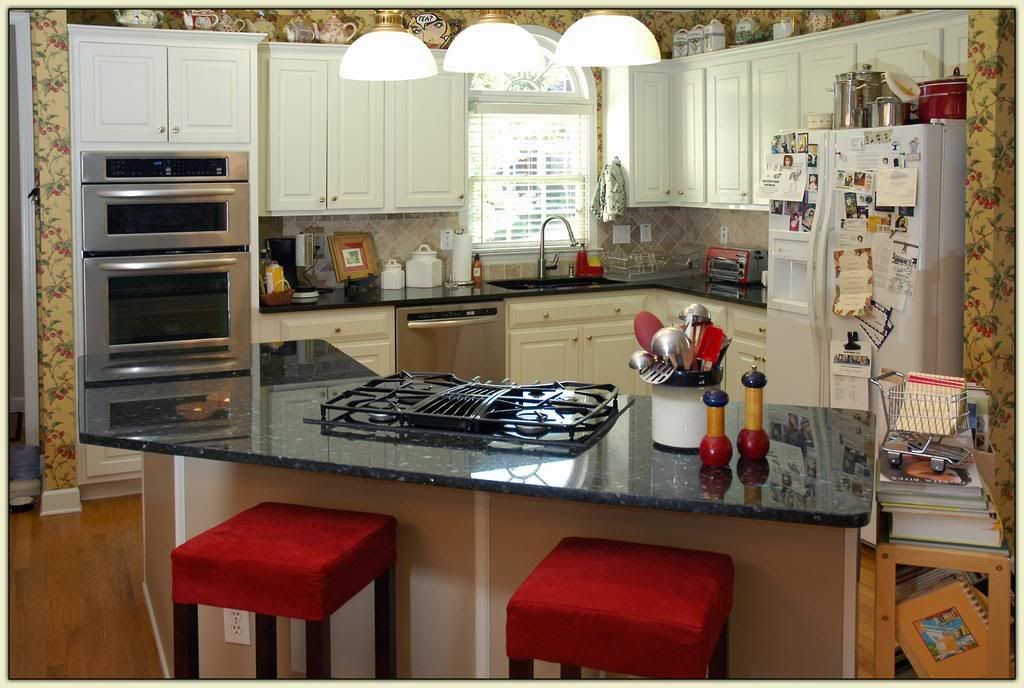 After. [Click to embiggen.]
What's new?
New sink, faucet, and soap dispenser.

SWMBO has been dying to get a Hans Grohe kitchen faucet like the one we had in our second Connecticut house twenty years ago. This one's an updated version in satin stainless. The sink is a Jacuzzi porcelain-on-cast iron undermount, jet black.


New granite counters and tumbled stone backsplashes.

The counters are Emerald Pearl...full of beautiful reflective surfaces. And the backsplashes are a lot more visually appealing than the boring white tile that was there before.


New oven and microwave.

The Kitchen Aid conventional convection/microwave convection combo replaces our old piece-of crap GE conventional/microwave. I'm looking forward to seeing how the convection feature will play out - I suspect that it will be helpful when roasting great joints of meat or when baking.


New dishwasher.

Kitchen Aid, again, replacing our old GE unit. Unlike the old one, which was serviceable but noisy, this one is as quiet as a mouse pissing on a blotter. Amazing.


New gas cooktop.

Like the old electric unit it replaces, "Darth Stover" is a Jenn-Air center-vent cooktop, but now we're cookin' with gas. And this one has a functioning vent blower. After so many years of dealing with a glasstop unit - how many of

your

pans are perfectly flat on the bottom? - this Bad Boy is a pleasure to work with.


New cabinet knobs.

There's no way we're replacing the cabinets, much as I'd love to...but these knobs, satin stainless with brass trim, tie the kitchen's various stainless and brass accents together nicely.
What's left to do?
We still plan to replace the switchplates and outlet covers with something that is a little less...
white
. And there's some minor trim that needs finishing. But aside from that, we now have a kitchen that's much easier on the eye...and much more suited to the kind of cooking we'd like to do.
And with that, our Kitchen Saga - barring unforeseen events - is over, and I will bore you with it no more.