My
recent post
about Supermarket Signage elicited a
comment
from the ever-charming
GuyK
: Good price for Mangos...did ya get some?
Of course I got some. At two for a measly buck, how could I resist? That's a very reasonable tariff in this neck of the woods.
I enjoy mango, a fruit with a sweet, yet strangely tangy flavor. Served with sticky coconut rice, fresh mango is a popular Thai dessert, one of the finest of any Asian cuisine. Compounded into Major Grey's chutney, mango provides a sweet-sour note to Indian (and other) dishes; as the key ingredient of Indian mango pickle, it offsets the white-hot fire of that condiment's chilli peppers.
The mango finds its way into drinks as well.
Mango lassi
, a yogurt-based beverage, is a fine hot-weather cooler; if you prefer something more spirituous, there's always the Mango-Tini: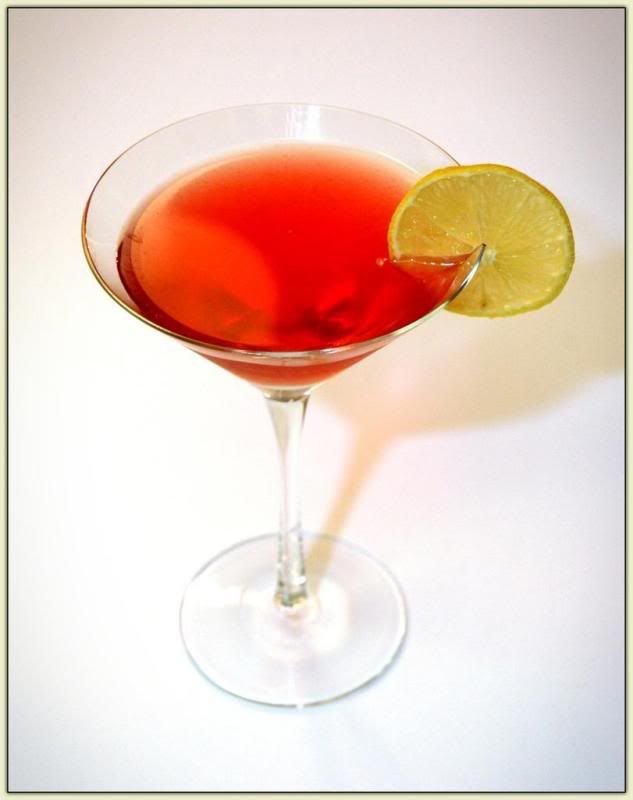 The Mango-Tini: Cran-apple juice, squeeze of lemon, and a hearty dose of Finlandia Mango Vodka, shaken and strained into a Martini glass. Garnish with lemon slice.
You can buy canned mango pulp (
kesar
) in any store that sells Indian specialty foods. Take some vanilla ice cream and dump some
kesar
over it... mmmmmmm, good! And if you have
kesar
on hand, making that mango lassi is a snap.
But you don't need fancy preparations to enjoy a mango. Just slice the flesh away from that big-ass fibrous seed -
careful, it's slippery
- and eat. Preferably over the sink, with a towel handy.
It's the Mistress of Sarcasm's favorite fruit, another reason why two-for-a-buck mangoes were irresistible. Try one today!