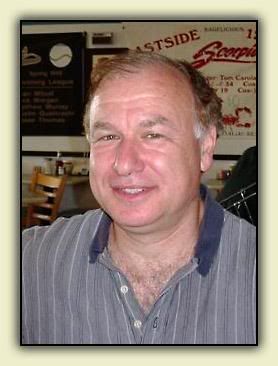 This morning, my friend Irwin, the Paintner - one of the Minyan Boyz - was in high clover.
It wasn't that his eldest child Ari's face had been plastered on the front page of USA Today's sports section yesterday - one of two UGA fans holding up banners as the Georgia Bulldogs won the SEC championship, coming from behind (as Dawgs are wont to do) - and was now being gazed upon by millions of people coast-to-coast. It was for a far more important reason.
Irwin's son Ari (L) and friend Steve (R) celebrate the Dawgs' come-from-behind victory.
Yesterday, Irwin became an American citizen.
Irwin was a Canadian, growing up in Montréal after (he says) his family had taken a wrong turn coming over from Europe. He and his family have lived here for many years as solid, productive citizens, contributing to the economy and to the community. He's one of those "go to" guys, the kind of person you ask for help when something needs to get done, the kind of guy who never met a stranger. And now, in the culmination of a process that took over five years, he, his wife Ava (a Romanian by birth), and his four children (all born in Canada) have taken the oath of citizenship. Younger son Danny, who is attending Sciences Po, a political science university in Paris, flew in especially for the occasion.
By way of celebration, Irwin bought breakfast for today's Minyan crowd at the Local Bagel and Smoked Fish Emporium…just the kind of
menschlichkeit
you'd expect. It was Fisherrific™.
I'm proud to call Irwin a friend...and not just because he laughs at my stupid jokes.
[And to those who will point out the apparent contradiction in having breakfast after Minyan on a minor fast day - today is
Ta'anit Esther
, commemorating Esther's having fasted three days before going in to King Achashveirosh to plead for the life of her people - I will say that it is, after all, only a
half-fast
day. And besides...we ate under Rabbinical supervision.]