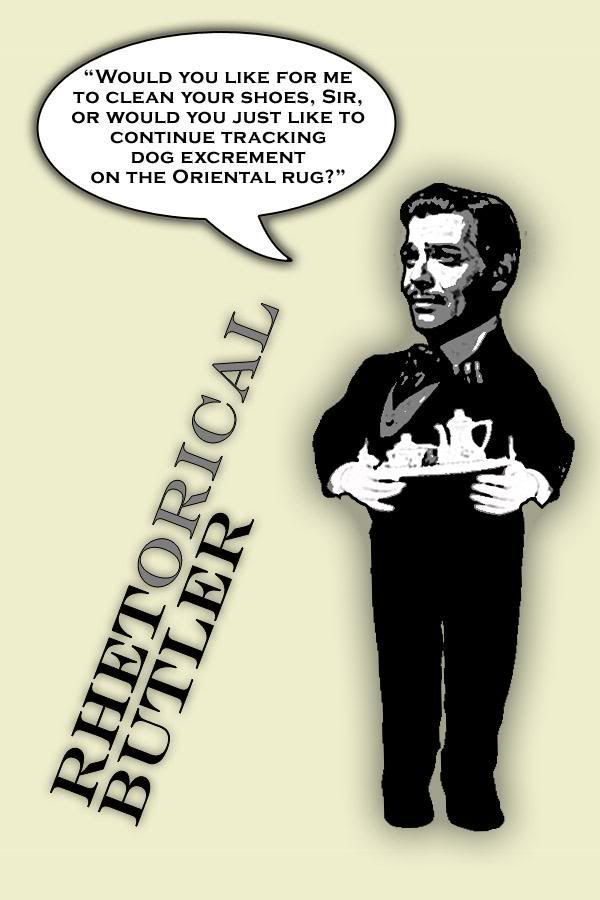 The last time I invented a Cartoon Character, it never went anywhere…but the essay I wrote about creating Super Baciagalupe was good enough to gain me entry to a major Ivy League university. Which, I suppose, goes to show you that there's no predicting
what
those double-domes are looking for in an applicant.
Hey, this guy sounds like a psycho! What's our target percentage of nutjobs in the class of '74, anyway? Thirty-seven? Hey, he's in.
But that was then, and this is now…which means it's time for a new Cartoon Character, someone who can do battle on the Funny Pages against the likes of Ziggy, Dennis the Menace, and Marmaduke in the One-Panel Gag arena.
Meet Rhet – short for
Rhetorical
– Butler.
His speciality is asking questions to which the answer is obvious or unnecessary. Some examples:
"Will you be wanting me to lay out your clothes, Sir, or would you prefer to traipse around the city with your Dangly Bits out?"


"Would you like for me to clean your shoes, Sir, or would you just like to continue tracking dog excrement on the Oriental rug?"


"Shall I pour Eric a glass of single malt Scotch?"
So: What do you think? Do you think Rhet Butler stands a chance against Ziggy?