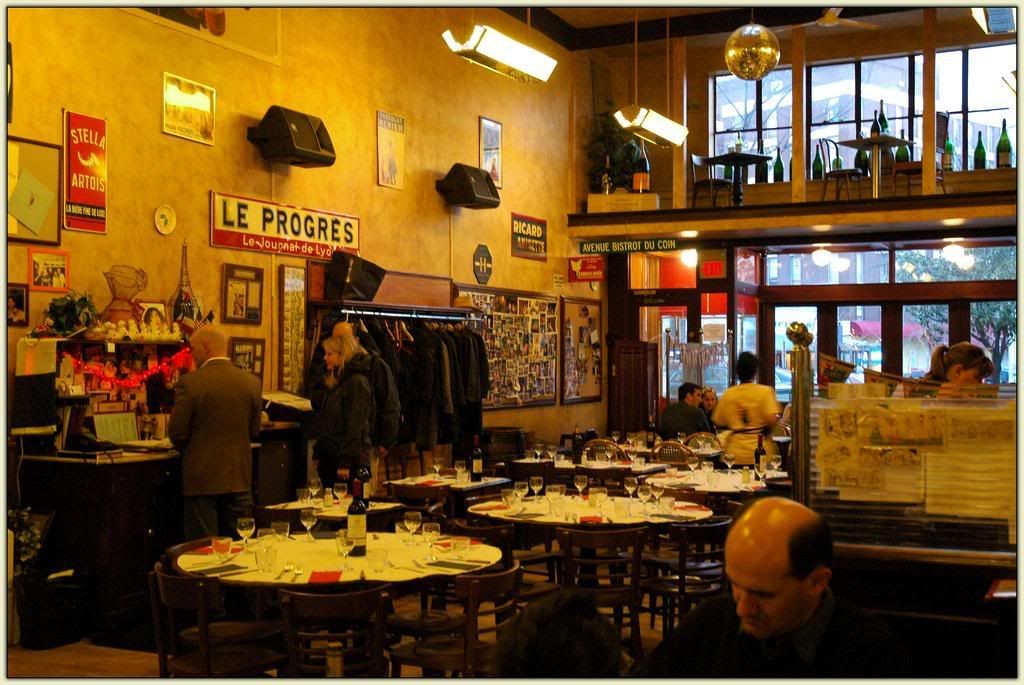 Bistrot du Coin.
As I write this, the Missus and I are winging our way back to Atlanta on the Silver Aerial Bus. It's a clear, cold afternoon, and the weather is much more pleasant than it was when we flew up to Washington, D.C. Friday night. And –
keyn ayin hora
– this flight is a
whole
lot smoother.
With our flight Friday arriving about an hour late, we didn't have energy to do much more than get to our hotel and collapse in our room. It's doubtful we would have spent a lot of time running around out of doors anyway, given the intermittent rain showers.
Saturday morning, we marched up to Elder Daughter's residence, which lies dead between the DuPont Circle and Adams Morgan neighborhoods. After taking a light meal at the local Belgian café (where it took a major effort of will to not order several selections from the impressive Beer Menu), we met a few of her friends that had driven down from New York (and that we had known from her Boston-area days). As soon as we had helped to get some of the equipment loaded backstage for that evening's show, SWMBO and I left Elder Daughter and her friends to their rehearsal and headed back to our hotel, riding shank's mare.
Our walks had taken us past
Nora
, an elegant little restaurant at the corner of Florida Avenue and R Street. I've wanted to check this place out ever since reading about
the Bakerina's experience
there last spring, but I had already decided on a different choice for the evening meal. Nora is, after all, the kind of Serious Foodie Experience that one should linger over...and this evening we had a back-end constraint.
Restaurant Nora.
Our friend Sue met us at our hotel at about 3:30, and we were joined shortly afterwards by
Meryl Yourish
, who was still looking for an opportunity to smack me upside the head for being a Cranky Bat-Mitzvah Tutor several months ago. After exchanging a few pleasantries, we piled in Sue's car and went off in search of dinner.
I had booked us a table at a local place,
Bistrot du Coin
, which I had selected for its combination of menu and location. And menu was important, because I wanted a place that served meat. What with
EATAPETA Day
being just one week away, both Meryl and I had figured that it was none too soon to start packing in a few meaty meals. The fine bistro-style cooking was an added bonus.
I started off with a salad piled high with sliced, roasted duck breast. You get extra EATAPETA points for eating cute animals, and what could be cuter than a cute little duckie? A cute little bunny, you say? Or a cute little lambie? They had those on the menu, too.
For the main dish, both Meryl and I dug in to hanger steaks. Mmmmm, I do love a good
hanger steak
, especially with a roasted shallot and a pile of the best honkin' French fries I ever tasted occupying the rest of the plate. Whatever they fry them fries in, I can tell you it is
not
Vegetabobble Oil. Duck schmaltz, maybe. Beef suet, more likely.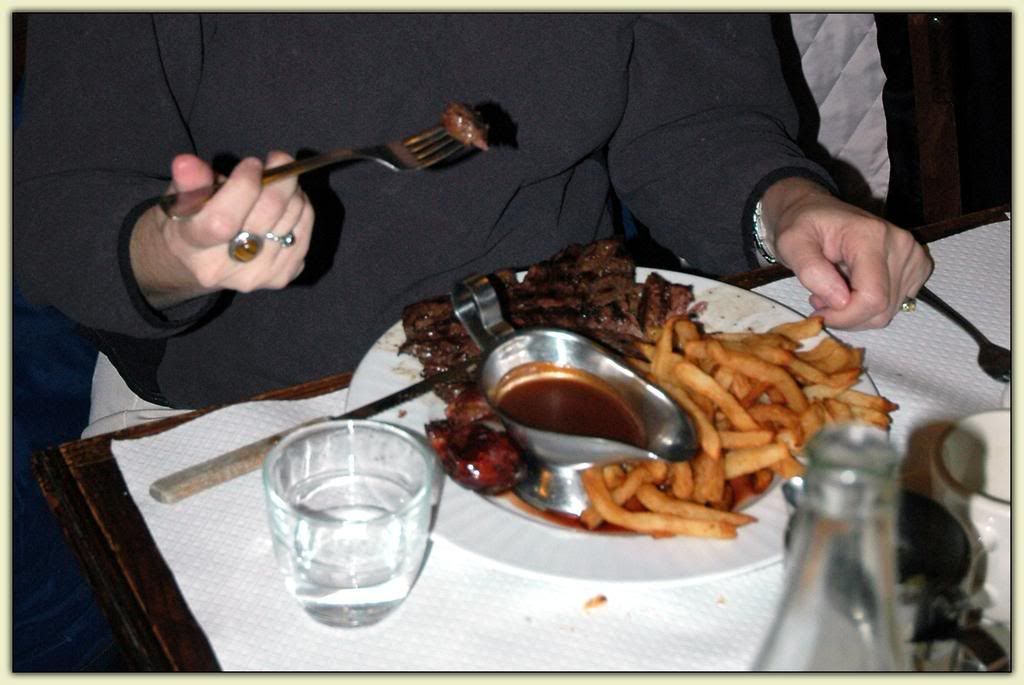 Meryl tucks in to a yummy Hanger Steak.
Sue and SWMBO went the Fishy Route, ordering perfectly grilled filets of salmon. Hey, fish counts for EATAPETA grub, too…'cuz
everyone
knows Fishies have Feelings. And Faces.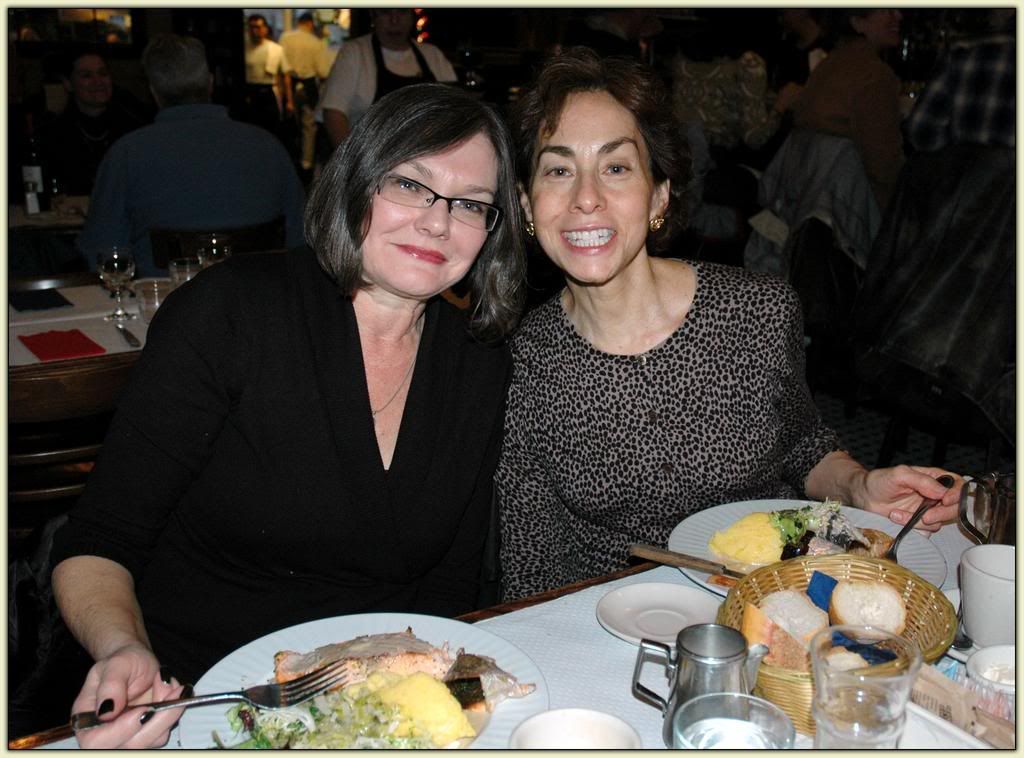 SWMBO and Sue.
The only disappointment? No Meat-Based Desserts.
All too soon, dinner was over. Sue and Meryl dropped us off near the theatre for Elder Daughter's show and headed off to their respective homes in Virginia. And we settled in to see the
Big Production
.
I freely acknowledge that I am in no way a Disinterested Observer, but I have to say that I was thoroughly impressed with the show. And that's saying something, because, let's face it: this was not the kind of event I would normally seek out on my own, being a middle-aged Penile-American. Elder Daughter's own performance, coming near the end of the second act, was so astonishingly professional that I was left there with my jaw figuratively hanging open. I was even more gobsmacked when I found out that not only had she
performed
her piece; she had
written
it as well.
Elder Daughter performs in
The Mother Flower
.
Holy. Crap.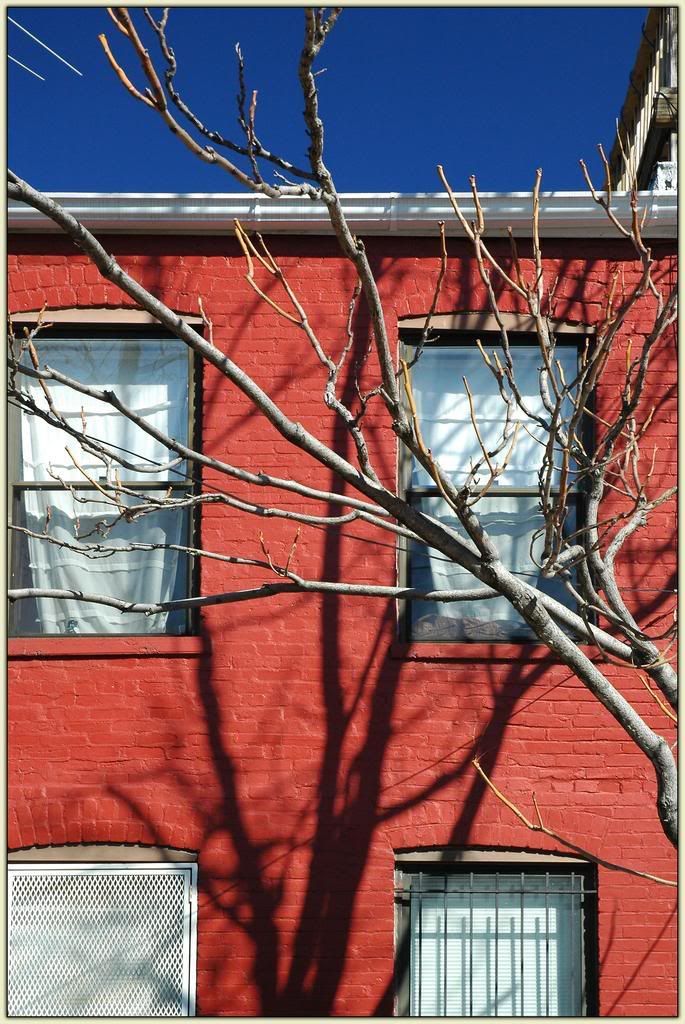 The next morning, SWMBO and I took Elder Daughter for a quick lunch before we headed off to the airport. The day was crisp, cold, and breezy. No: make that
downright windy
. But the local birds didn't seem to care as they bathed themselves in a handy fountain...
...and then dried off in the warm dirt below.
It was an all-too-brief visit, but we packed a lot into one weekend, seeing many old friends and meeting new ones...and enjoying the work of a talented young woman who just happens to share our DNA.
I am a lucky guy.