Last year, She Who Must Be Obeyed and I
celebrated Thanksgiving
with the Mistress of Sarcasm and a small army of her friends in Savannah. This year, in a return to tradition, the festivities will take place here at Chez Elisson.
For the first time in five years, both the Mistress of Sarcasm and Elder Daughter will be here at our Thanksgiving table...certainly something for which we are thankful. SWMBO's brother Morris William and his family will be here with us as well, along with a horde of Local Friends. It will be stupendous.
As for the food, we are planning the usual groaning board, piled high with seasonal delights. Here's the menu:
Crisp Apple-Scented Roast Turkey with Cider-Calvados Gravy


Peach-Cranberry Sauce


Focaccia Dressing with Herbes de Provence


Salade Mort de Vampyr
(Wilted Spinach Salad with Pine Nuts, Dried Currants, and Pecorino Romano)


Casserole Traditionnel des Haricots Verts
(String Bean Casserole, made from scratch)


Sweet Potato Pudding "Gary"


Carrot Soufflé


Salade des Fruits


Coffee, Tea, Assorted Soft Drinks, Cordials and Digestifs



[Gastric Lavage Available Upon Request]
Some of these recipes - the sausage-rice dressing, f'r instance - are family favorites. That one in particular we've had on our table for almost every one of the last twenty-five years.
The turkey recipe is a new one for us, fresh out of this month's
Saveur
magazine. It sounded irresistible, and the photos clinched the deal.
The green beans? Everyone is more than familiar with the infamous Green Bean Casserole of American popular culture, a dish most often made with canned green beans and Campbell's Cream of Mushroom Soup. Feh. This one, following a Cook's Illustrated recipe, is made from scratch: The only "convenience" ingredient is the canned French-fried onions for the topping. We made this last year at the Mistress's, and it was surprisingly good. Amazing what you can accomplish with fresh green beans, mushrooms, garlic, and real cream.
In the meantime, we are amusing ourselves by having Home-Made Pizza. William helps us put it together...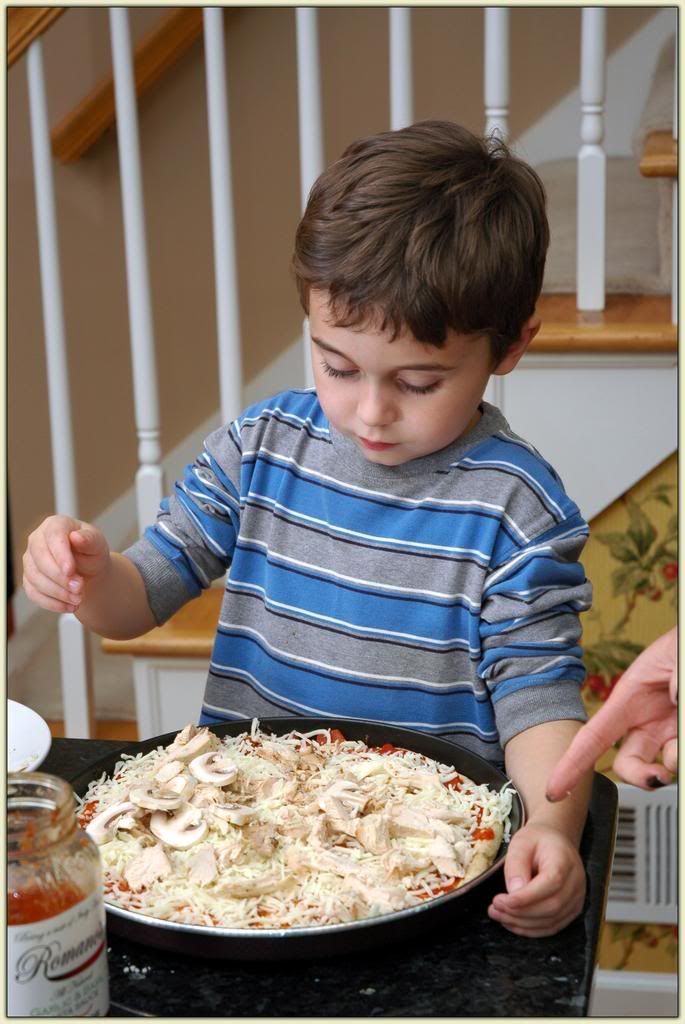 ...and here's the end product. Half plain cheese, half with sun-dried tomatoes, pepperoncini, fresh basil, and mushrooms.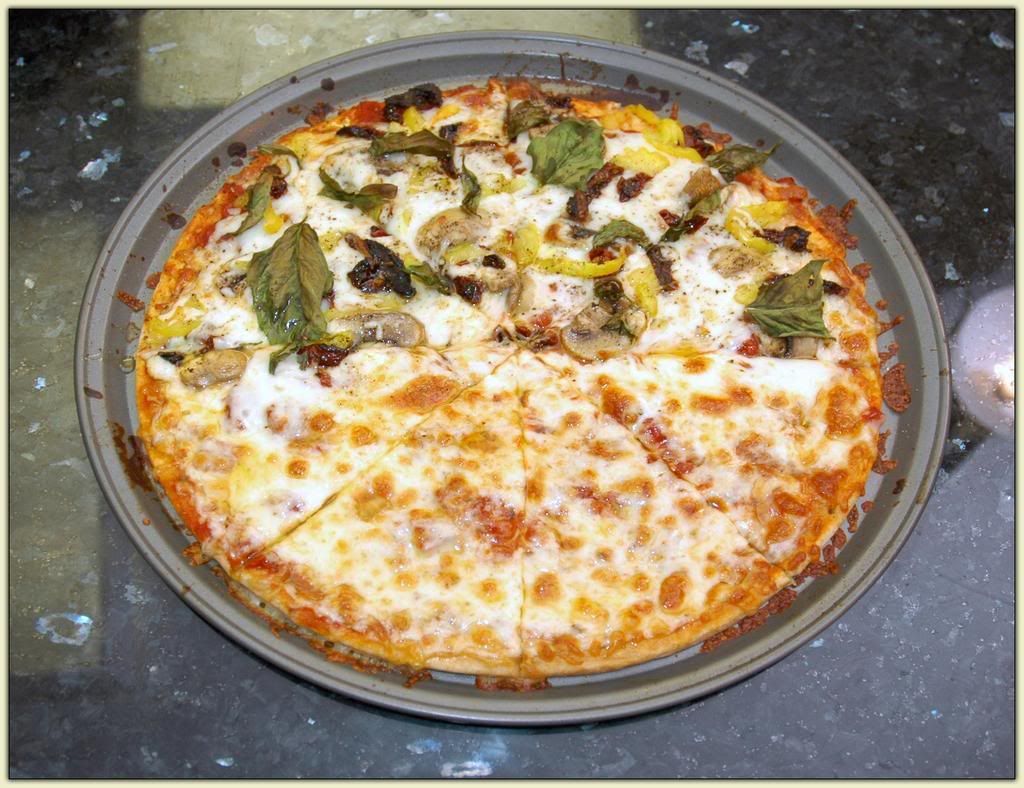 Hey! The kid's got potential...