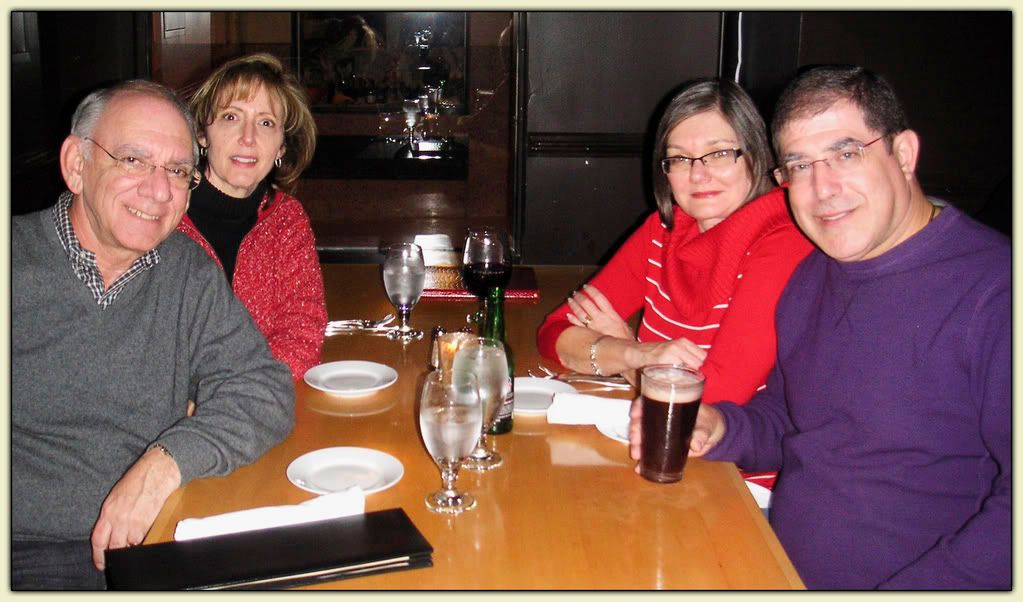 Gary, JoAnn, SWMBO, and I sit down to dinner at Carmel's in downtown Asheville.
We arrived in Asheville yesterday evening, an evening that followed a glorious fall day of crisp, cool air, blue skies, and bright sun. After checking in to our hotel - right in the heart of downtown - we spent some time wandering around, checking out the surroundings.
It's an arty little town, Asheville is. Within rock-throwing distance of our hotel, we noted 17,453 galleries, offering everything from exotic textiles, handcrafted jewelry and metallic art, paintings, and photographs to Bizarre Swedish Furniture. The good news is, most of the art is far removed from the usual artsy-craftsy Big-Eyed Puppy, Moppet, and Clown School crap. It is, by and large, really good. The bad news is, the artists know it and price accordingly. Wanna buy Arty Stuff in Asheville? Bring lotsa money.
We stepped into one of the local bookstores: Malaprop's, an independently-owned, not-affiliated-with-the-usual-big-chains shop, where our main objective was to warm up with a cup of coffee. And who should be sitting there two feet away, one day in advance of his appearance at the Jewish Book Fair in Atlanta, but Robby Benson?
Robby Benson - stage and film actor, television director, and now author - was here touting his latest book,
Who Stole The Funny?
, a novel based on the travails of making a sitcom. You may remember him in his memorable turn playing a religious Hasidic youth in
The Chosen
(1981), in which he costarred with Rod Steiger. Or you may know him by his voice: he was the Beast in Disney's
Beauty and the Beast
. He was, in any event, very accessible and pleasant, and I left bearing an autographed copy of his book.
We took our evening meal at a place called
Carmel's Restaurant and Bar
, just down the street from our hotel. It was superb. I had a dish of orrecchiete in a Manchego mornay sauce with truffle oil and panko, the kind of pasta I could have eaten a half-gallon of. Gary and JoAnn each had gargantuan platters of rich pot roast, braised to falling-off-the-fork tenderness. And the grilled Caesar salad - yes,
grilled
- added an extra dimension to what is too often a pedestrian dish.
We had fun...but a peek at one of the guests in the back of the restaurant told us that the party was just beginning.