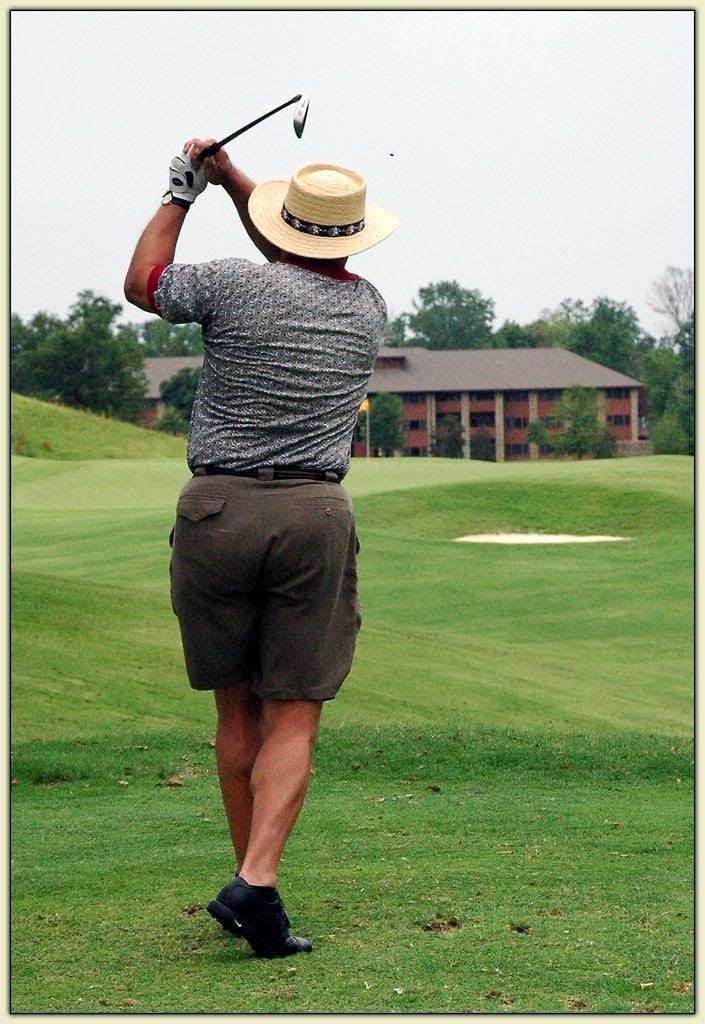 Definitely not Arnold Palmer. Or Tiger Woods.
Those of you who are wondering how Golfy-Boy enjoyed his Long Weekend on the
Robert Trent Jones Golf Trail
need wonder no longer. It was magnificent. Mostly.
"What is this Trail of which you speak?" I hear you ask, and I answer: It is a collection of 432 championship-caliber golf holes, spread out over a network of ten locations in Alabama. Each location has a resort-quality hotel, making overnight stays a pleasure for the out-of-town crowd. And best of all, the greens fees are eminently reasonable, especially when purchased in the context of a three-day all-you-can-play package. There is no better deal to be found in golf...and the course quality-to-value ratio is astronomical.
Of course, the way Elisson plays, the cost-per-shot ratio is also pleasantly low. Feh.
We started off late Thursday afternoon by assembling the multitudes - there were eight of us along on the voyage - and grabbing a barbecue dinner at Jim and Nick's in Smyrna, Georgia. We packed ourselves with copious quantities of smokèd meats and told countless stupid jokes. Including this one:

Knock knock.

Who's there?

The Interrupting Pirate.

The Interrup-

Arrrrh!
(It's better heard than read...trust me.)
That kicked off two and a half days of random outbursts of Pirate Talk, to the consternation of some and the general amusement of most.
Bloated and sated, we got on the road and drove to Prattville, just north of Montgomery. Prattville is the home of Capitol Hill, a Trail location comprising three courses: the Judge, the Legislator, and the
Crooked Lobbyist
Senator, the last of which is a Scottish links-style layout complete with gorsy tumuli, a constant stiff breeze, and deep pot bunkers. On arrival, we checked in to our hotel, had a few Adult Beverages, and then fortified ourselves for the struggle ahead with a good night's sleep.
Friday, we played the Legislator in the morning and the Senator in the afternoon. [Two years ago, we had played the Judge, a course more properly titled "Judge, Jury, and Executioner" and definitely not for the faint of heart.] The weather cooperated, with the rain holding off and there being enough of a breeze to keep things from getting unpleasantly tropical. Some fine Hoyo de Monterrey cigars (courtesy of Houston Steve) were the icing on the cake.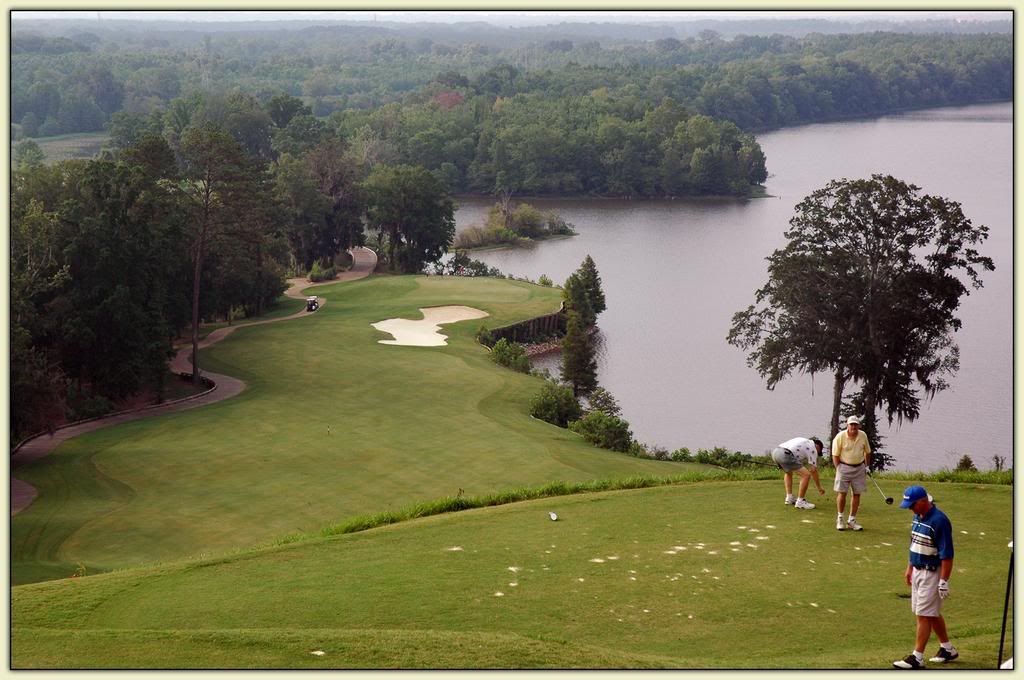 The imposing view from the first tee at The Judge.
After a lengthy day, we grabbed a steak dinner and got back on the road. Our destination was Opelika, home of the Grand National. Upon arrival - it's about an hour's hike from Montgomery up I-85 - we enjoyed a few communal tipples and headed off to bed.
The weather that greeted us Saturday morning was not encouraging. The skies were grey, with a rain that varied from weak spitting to moderate downpour. Fortunately, as our tee-time approached, the weather settled down and we headed for the Lakes course.
Our afternoon round was at the Links course, a layout with a gorgeous - and challenging - finishing hole. As we headed back to the hotel, somewhat damp from the late afternoon showers that had moved in, we were tired but happy. A rainbow appeared in the eastern skies, and we hustled off to see what lay at its end. Imagine our disappointment to find, instead of the fabled Pot o' Gold, a few boxes of Titleist X-outs. Foo.
Rainbow over Opelika.
A quick shower, and we were off to grab an Italian dinner in Auburn, a dinner punctuated by random Piratical Outbursts: "I would have made p
arrrrh
, but I hit the shot too f
arrrrh
and ended up in a bunk
arrrrh
. And then the c
arrrrh
t ran over my foot. A
arrrrh
!"
Sharing the hotel with us was an amateur baseball team, a team with not much to do, given the rain that fell intermittently during the weekend. Also at the hotel was the Miss Gulf Coast beauty pageant. The outgoing Miss Gulf Coast was much easier on the eyes, in my Not-So-Humble Opinion, than her
Rattlesnake Roundup counterpart
- but you be the judge.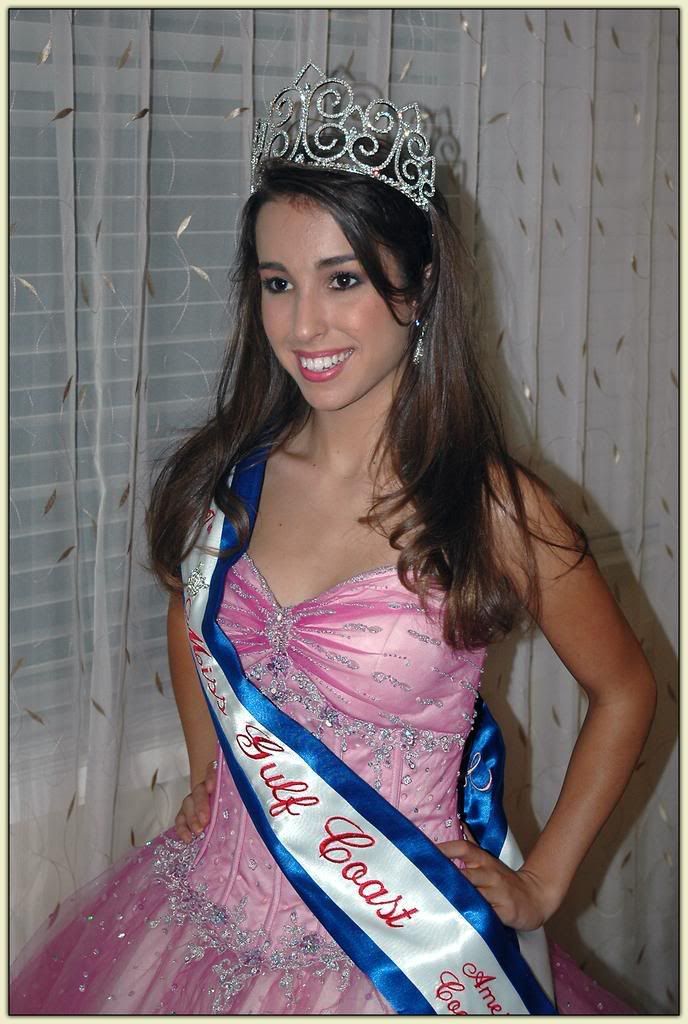 Miss Gulf Coast.
Miss Rattlesnake Roundup.
Alas, Sunday morning we awoke to a steady drenching rain. Optimists we, we drove to the course with the intention of checking the weather radar at the clubhouse...but the rain was hard enough so that nobody was willing to get out of the car to run
to
the clubhouse. Which meant that it was time to pack it in and head back to Atlanta. Given my sore hands and aching body, that was not an entirely bad outcome.
One thing is certain, though. I've got to invest in an updated driver. My equipment is almost a decade old, and meaningful innovations in golf equipment are starting to track those in the computer industry. Which means I'm still playing with the equivalent of a 386 processor and a 5¼-inch floppy drive. I need to get me one of them big-ass 460cc head drivers that look like a watermelon on a toothpick...'cause with one of them big-ass drivers, I can smack that pill a good long ways.
Then maybe I can start working on what
direction
the damn thing goes.