Tonight, She Who Must Be Obeyed and I wanted something for dinner that could be prepared quickly.
We have a busy night ahead of us: packing for our weekend jaunt to Chicago-Land, there to attend the Bat Mitzvah of one of SWMBO's cousins. [A first cousin twice-removed, if you care about such details.] And as if that were not enough, SWMBO is making a couple of Breakfast Casseroles for a school function tomorrow morning. I don't know all the details, but it involves a lot of challah, eggs, milk and cheese.
Rooting around in the ol' Fridge-Crisper, I found a gargantuan sack of asparagus spears. Immediately, the grill seemed an attractive option. All I had to do by way of prep was to trim off about an inch from the bottoms of the stalks, rinse and dry the asparagi, drizzle them generously with olive oil, and sprinkle with kosher salt and freshly ground black pepper. For a little extra flavor fillip, I added a dash or two of Piment d'Espelette - Basque red pepper. It also helped kick the Pretentiousness Index of the dish into the stratosphere.
Along with the asparamagoosalum, I prepared a handful of cheese-stuffed jalapeños in the style of
Laurence Simon
. Havarti works well here, but this time I used Münster cheese just for the sheer eyeball-popping hell of it.
For the main course, we had Salmon Filets with Basil Butter,
à la mode de
Costco. All we had to do was stick 'em in a 350°F oven for 20 minutes, and Bingo! Dinner. Checkit...
Alas, we had neglected to prepare a starch, and so SWMBO came to the rescue with her usual creative flair. Pirate's Booty!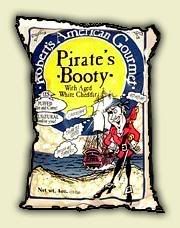 Well, from a distance, it kinda looks like
spätzle
, them little free-form German noodles...
...and besides, it's Styrofoama-Licious!
All told, a fine meal, easily prepared within 30 minutes (including prep time). Next time I'll not be quite so lazy, and I'll plank the salmon instead - provided I remember to allow an hour or so to soak the frickin' plank.
And now: Packing Calleth!