Last night, She Who Must Be Obeyed and I dragged our friends Gary and JoAnn off to
Flip Burger Boutique
. The Missus and I had
been there before
, and we wanted to share the joy.
I have to tip my fedora to anyone who is ballsy enough to open a restaurant in these parlous economic times. But Barry Mills, the owner, gets additional "Ballsy Points" for opening a restaurant with demented genius Richard Blais as his Creative Director. Yes, Creative Director... for Executive Chef just doesn't do justice to Blais's contributions to the Dining Scene.
Blais - a fellow Long Island emigré, by the way - has an impressive Curriculum Vitae. He has studied with culinary luminaries like Ferran Adrià (head chef at
El Bulli
in Costa Brava, Spain), Thomas Keller (chef and owner of
The French Laundry
in Yountville, California), and Daniel Boulud (with restaurants in
New York
, Palm Beach, Miami, and Las Vegas); he was the Season Four runner-up on Bravo's "Top Chef," and he has been associated with a number of restaurants in Atlanta, including his own eponymous Blais, his attempt to reinvent Fine Dining. Blais (the restaurant) lasted only six months, but that failure only spurred Blais (the chef) on to greater achievements - including a four-star turn at One Midtown Kitchen.
At Flip, he gets to indulge his creative and playful tendencies, while at the same time reinventing an American classic: the Hamburger. It's the perfect venue for him... and it allows those of us without a gilt-edged checkbook the chance to taste of that creativity.
We arrived on a Saturday night... a Saturday night shortly after a
very positive review
appeared in the local blat... and so the place was (predictably) packed to the gills with happy, talkative people. The crowd consisted of young, good-looking urbanites, with a few families and silverhairs sprinkled in; the energy level, coupled with the pulsating background music, the volume of chatter, the soundless music videos playing on several flat-screen teevees, and the frantic activity in the kitchen (visible through a large opening) helped motivate us to endure the 90-plus minute wait for a table.
Who the fuck waits 90 minutes for a table? Not us. Not anywhere else. But we did this night... and, strangely enough, it was worth it.
The burgers here - the ones with beef in 'em, anyway - are freshly ground from a combination of short ribs, brisket, and hanger steak, coincidentally a few of my favorite cuts. The result is an exceptionally beefy burger, just big enough to satisfy... and small enough to allow the Hungry Diner to order more than one. It's perfect for groups that aren't squeamish about passing several burgers around the table. The burgers come on house-baked brioche rolls with a rich, buttery flavor.
I had a Butcher Burger, which came with blue cheese, frisée lettuce, and blue cheese foam. It was amazing. We've all become so inured to shitty burgers in this country - flavorless, overdone hockey pucks made out of beef snouts and assholes - that to taste a well-prepared hamburger made of freshly-ground, quality beef is nothing short of a revelation. Perfectly seared exterior, juicy medium-rare interior - every bite a pleasure. SWMBO loved her rBQ - a barbecued brisket burger - and Gary and JoAnn were agog. Gary, in fact, pronounced his burger "the best he ever had."
[I'd love to see what Blais could do with my oniony Eastern European-style
braised beef brisket
. I'll bet that you could run it through a meat grinder and make a hella Brisket Burger. Good enough to give you a Food-Boner.]
But the real fun began when we ordered a couple of LN2 milkshakes.
I said earlier that Richard Blais was a demented genius. It's a compliment coming from me, a personage who occasionally will wear a colander as a fashion statement. And I truly believe that you have to be a demented genius to come up with the idea of freezing ingredients in liquid nitrogen, powdering them, and making milkshakes out of them.
The so-named Krispy Krème milkshake, for example, is made with (you guessed it) Krispy Kreme doughnuts. And it tastes exactly like a cold, frosty, creamy liquid doughnut. Gaaaaaah. Finally, a suitable use for the Krispy Kreme (I am a Dunkin' Donuts partisan, as my Esteemed Readers
already know
) that allows it to shine.
How 'bout a Foie Gras milkshake? Made with real, honest-to-Gawd
fatty duck liver
?
You'd think it would be horrible, an object of morbid fascination... but you would be wrong. Foie gras, after all, is mostly fat -
yummy, delicious fat
- and fat is what carries flavor and provides texture in most of the proteinaceous things we enjoy. Blais marinates his duck livers in amaretto, at least eleven other secret herbs and spices, and Gawd knows what else; the result, when converted into a milkshake, is something that, while decidedly Not Kosher, has a subtle, mysterious flavor that might very well turn out to be addictive.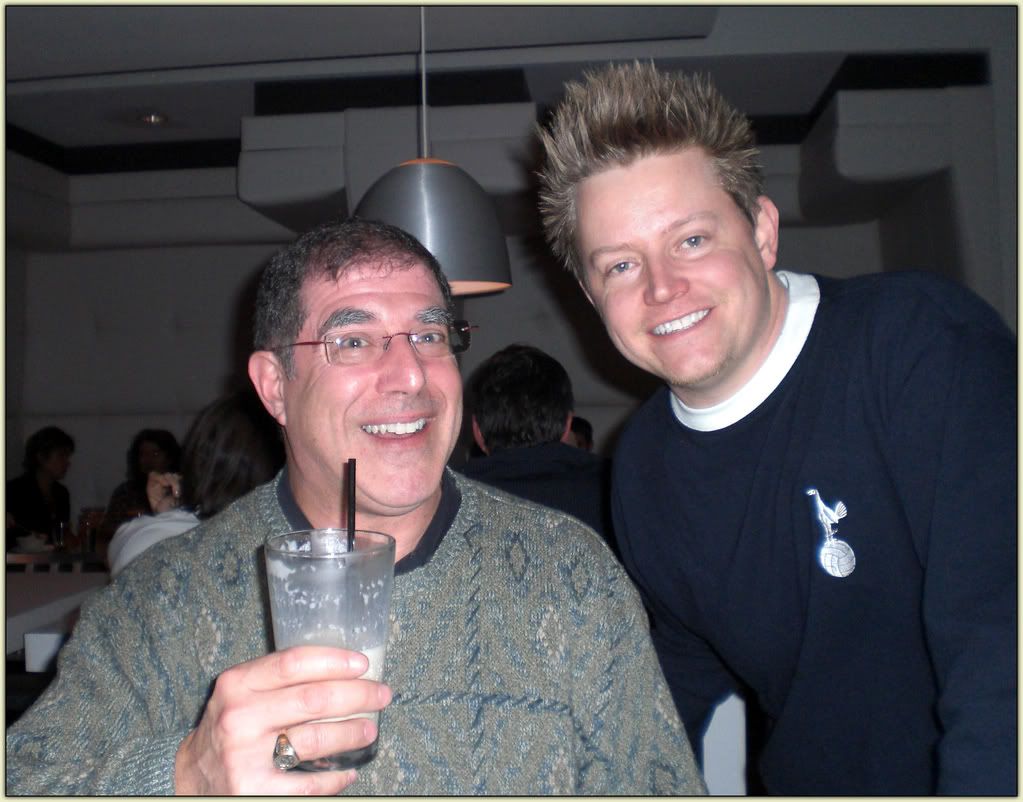 Elisson enjoys a Foie Gras Milkshake as Richard Blais looks on.
Bring the Lipitor when you have one of these. But don't let the mere notion of a Duck Liver Milkshake scare you off.
Eating out should be fun. Eating out should involve good food. Flip has both.