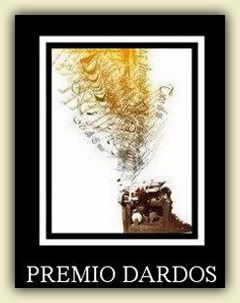 WTF izzit? It's a
Prémio Dardos Award
.
"The Dardos Award is given for recognition of cultural, ethical, literary, and personal values transmitted in the form of creative and original writing. These stamps were created with the intention of promoting fraternization between bloggers, a way of showing affection and gratitude for work that adds value to the Web."
The ever-gracious (if slightly Taste-Impaired) Ivan G. Shreve, he of the marvelous blog
Thrilling Days of Yesteryear
, has
seen fit to bestow
the fabled (and heretofore barely known) Dardos Award upon your humble servant.
I will have to ask him what he has been smoking.
Meanwhile, as Ivan points out, there are rules. To paraphrase Indiana Jones, "Rules. Why's it have to be rules?"
Because, that's why.
Oh, the rules. Here they are, and they're simple enough:
1.
Accept the award
by posting it on your blog along with the name of the person that has granted the award and a link to his/her blog.
2.
Pass the award to another five blogs
that are worthy of this acknowledgement, remembering to contact each of them to let them know they have been selected.
Hmmm. Sounds awfully much like a bit of Link-Whorage, don't it? But that's what bloggy memes and awards are all about, so let's be good sports. And besides, Ivan's one of my longest-standing Blog Buddies, as well as being the Go-To Guy for anyone with at least a passing interest in old-time radio, television, or movies. To use a wine analogy, Ivan doesn't drink in his Pop Culture unless it has had a chance to mature for a few decades... like vintage Port. None of that crappy white Zinfandel pop culture for him.
So: Who should I honor with this little gem of an award? Lessee...






Now, go forth and check these sites out, if you have not done so already!