What with both Elisson-Daughters having been in town this weekend, we decided to have a few friends over for a home-cooked feast Sunday evening. And a feast it was.
I had picked up a passel of nice, big yellow onions a few days ago, having had
French Onion Soup
on my mind. It's hearty enough for those brisk fall evenings, but it doesn't lay on your
kishkes
like a lead weight, as sometimes does a split pea or lentil pottage.
French onion soup.
For protein, we had simple stuff: grilled flank steak for the Beef-Eaters, Bourbon Salmon for those with Piscine Preferences. Just to be weird, I cooked up a pot of
black rice
(it's really more of a blackish purple, but bizarre looking nonetheless) by way of a starch...and JoAnn brought in some green beans and broccoli so there would be a few vegetables.
Did I mention salad? Yes, there was salad - a
Fart-Ball Salad
I made using thinly sliced Brussels sprouts. You simply slice up a bunch of those bad boys using a mandoline (remove the cores), mix in a couple cups of toasted walnuts, 1/3 cup grated Pecorino Romano, 1/4 cup olive oil, and the juice of one lemon... a couple twists of the ol' Pepper Mill... a dash of salt if needed... toss well, then top with a few curls of Romano shaved from the block using a potato peeler. It sounds horrendous, but if you can get over your (inexplicable) loathing of Brussels sprouts, it is actually pretty damn tasty.
[I should point out that the recipe is from the current issue of
Saveur
magazine...and the term "Fart Balls"
comes from
Karen Wise (my blogmomma!) who writes at
verbatim
.]
Fart-Ball Salad.
For dessert, Laura Belle contributed an obnoxious, yummy chocolate chip pound cake; John and Chris brought those Harry and David's Moose Tracks ("Cracker Jack on Crack™"); and I baked up some of
these Proud Beauties
.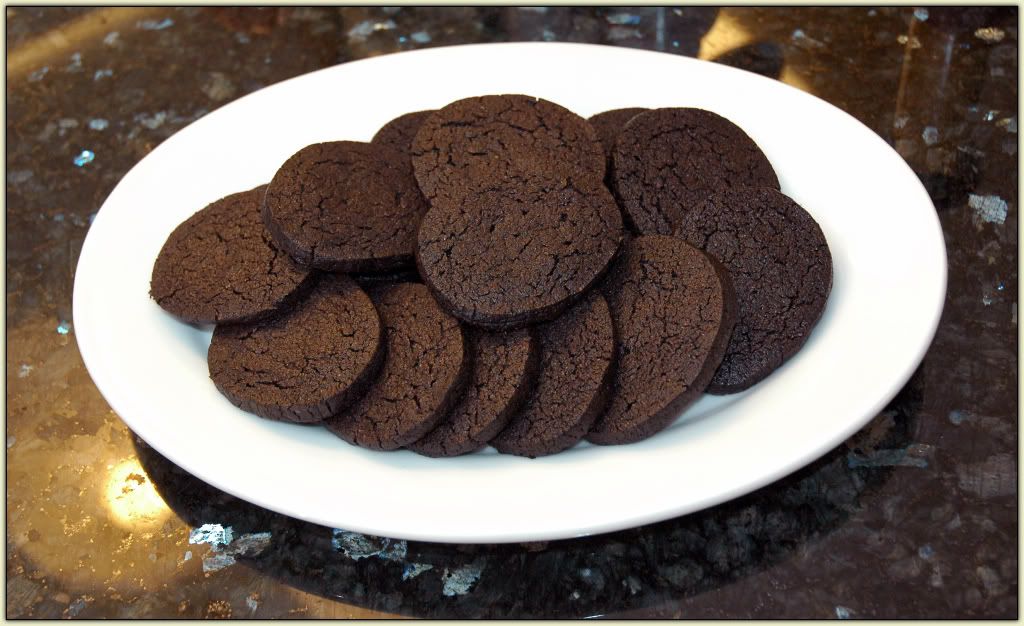 Mexican Chocolate Icebox Cookies!
Remember: What it comes to dinner at Chez Elisson, nothing exceeds like excess!