Gilad works Pudding Magic.
In this part of the world, Banana Pudding is more properly called "Nanner Puddin'," and it is more than a mere dessert. It is a Religion.
There are any number of ways to dessertify a banana. Those inclined to simplicity can simply peel and eat one, but if you crave something a bit more complicated, options abound.
You can slice up a banana and decorate each slice with a clump of peanut butter. Melted chocolate (milk or semisweet) is optional. You can use the banana as a base for a traditional banana split. You can mash bananas and convert them into
Banana Nut Bread
. You can toss 'em in a skillet with some butter, brown sugar, cinnamon, banana liqueur, and dark rum, cook 'em down, and dump the resulting mess onto vanilla ice cream. Presto:
Bananas Foster
!
I freakin'
love
Bananas Foster.
But if you have even a drop of Southern blood in your veins, you will, first and foremost, think of Nanner Puddin'.
Traditionally, Nanner Puddin' consists of a layered mixture of Nilla™ vanilla wafers, a vanilla pudding, and sliced ripe bananas, buried under a layer of meringue. Variations abound, some of them unfortunate (Paula Deen's version, which includes cream cheese; and any recipe that involves prepackaged instant vanilla or banana pudding), some neutral, and some excellent.
When Gilad and the Mistress of Sarcasm were casting about for something to contribute to our Thanksgiving groaning board, they thought of the superb Nanner Puddin' served at
Back in the Day Bakery
in Savannah. BitD makes their pudding in individual cups; they use whipped cream in lieu of meringue; and in place of the Nilla wafers, they use their own home-baked shortbread. The result is mind-bendingly good.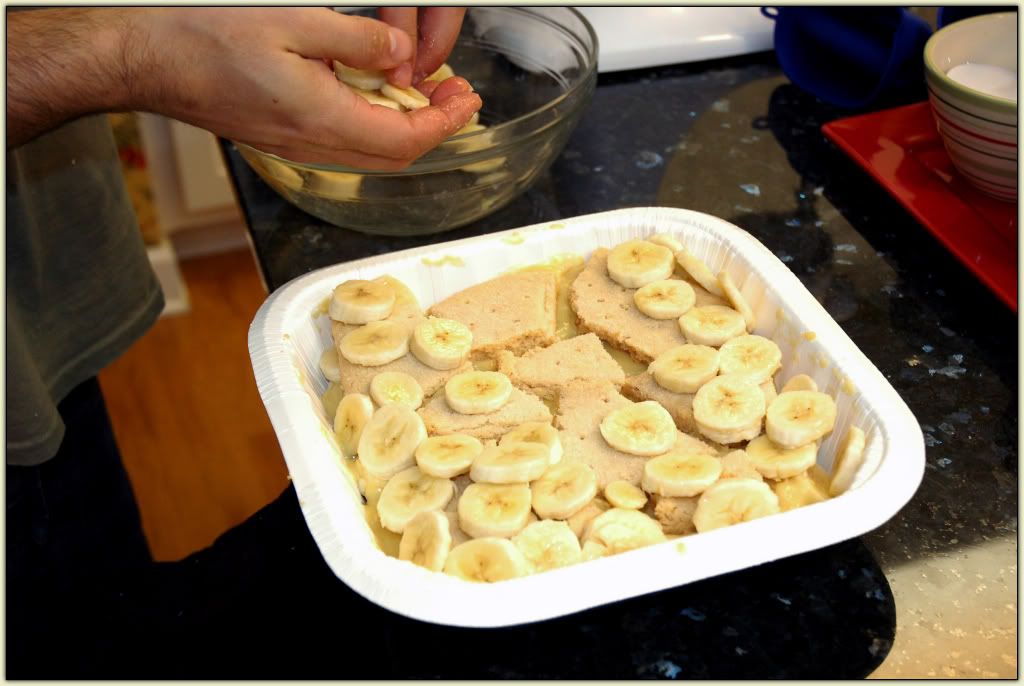 Shortbread layered with sliced bananas. The vanilla-flavored goop comes next.

Gilad ended up modifying a
standard recipe
by substituting shortbread chunks for the Nilla wafers, BitD-style. The result? A serious Calorie-Bomb: made-from-scratch vanilla pudding meets made-from-scratch shortbread meets yummy sliced bananas, all buried under a cloud of meringue...and then baked until golden. [An alternative version of the recipe (featuring Nilla wafers) is
here
.]
Holy Fuckamoley.
It's the shortbread that elevates this dessert from the sublime to the ridiculously sublime. Shortbread, after all, is nothing but sweet butter, sugar, and a dab of salt...with just enough flour to hold it together in one clump when you bake it. Along with single malt whisky, it's something for which we must be eternally grateful to the Scots.
If it were not for the fact that my ass expands simply by virtue of our having this stuff in the house, I would want to use this incredible recipe as a jumping-off point. Would the meringue be even better with a few crumbled amaretti cookies in it? Would adding a tablespoon or two of dark rum to the pudding kick the whole enterprise up a notch? Who knows? Anyone wanna find out?