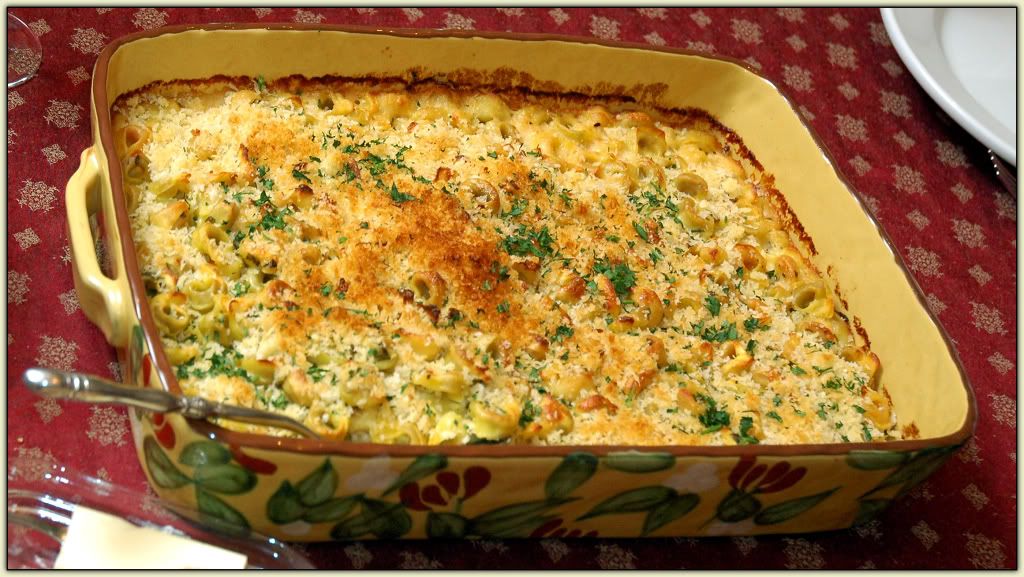 Tortellini Elissonolini.
As the weather turns cold – well,
cool
, anyway – I start thinking more and more about stick-to-your-ribs comfort foods. Hot cereal in the morning, rich legumaceous soups in the evening...and childhood classics like macaroni and cheese.
We had a few friends over for dinner yesterday evening, and I was casting about for something to serve. Flank steak, brisket, beef ribs – all of these sounded good, but the Missus and I were looking for something less beefy. (I never thought I'd ever catch myself saying
that
...but there you are.) And that's when the inspiration hit: How about a grown-up version of good ol' Mac and Cheese?
I had made a superb
five-cheese lasagna
about a year ago, a perfectly good jumping-off point for what I had in mind. For what I had in mind was not lasagna at all, but something even more serious.
Tortellini.
I love tortellini. Like ravioli (or, for that matter, the closer-to-ethnic-home kreplach), tortellini consist of a filling encased in a pasta wrapper. But tortellini look a lot more interesting, like little belly buttons. And a Mac and Cheese with a tortellini base would be some Serious Eatin'. Thus it was that I created...
Tortellini Elissonolini
I started with two 13-ounce bags of Barilla tortellini – one three cheese, one spinach and cheese. The package directions say to cook these babies 10-11 minutes, but I planned to boil them only 8 minutes, since they'd have additional cooking time in the oven. Speaking of which, preheat it to 350˚F.
For the cheese sauce, take three tbsp butter and melt it down in a saucepan until foaming. To this, add one finely minced shallot and one finely minced garlic clove. Cook over medium heat about two minutes, then throw in 1/3 cup all-purpose flour. Cook this, stirring constantly with a wooden spoon, for another two minutes. You now have a fine, aromatic roux.
Now, whisk in 2 cups chicken broth and 2 cups milk. Bring up to the boil and then back the heat off until the mixture is at a simmer. Add in a healthy pinch of cayenne, one bay leaf, and ½ tsp salt. Cook, stirring frequently and scraping the sides and bottom of the pan, for ten minutes. During this time the sauce should thicken enough to coat the back of a spoon.
Now, stir in, a handful at a time, 5 ounces shredded Gruyère cheese (use the real imported kind, not the plastic-tasting crap from Wisconsin) and one ounce shredded Parmigiano Reggiano. The cheese should melt, forming a smooth mixture. Set this aside while you drain the pasta. If you timed everything right, the cheese sauce should be done right about when the pasta is finished cooking. Remember – boil the pasta only 8 minutes.
Dump the drained pasta, along with the hot cheese sauce, into a large bowl. Or use the big-ass pan that you used to boil the pasta. Sprinkle in about 6 ounces of shredded Fontina cheese and a handful of chopped fresh parsley, then stir gently to mix.
Dump this whole mess into a deep 9 x 13" casserole dish and level it off. Put it in the oven on a rack set to the upper-middle position and bake for 30 minutes, after which time the pasta should be bubbling like a volcano.
While the pasta is baking, melt 3 tbsp butter and add in about a cup of panko (Japanese breadcrumbs). Mix well.
Now take the panko mixture and scatter it over the top of the pasta. Sprinkle on one ounce of shredded Parmigiano Reggiano. Run it under the broiler until the breadcrumbs have turned a nice golden brown, then scatter a handful of chopped fresh parsley atop the dish.
Serve it forth to a crowd of 12-16 people, along with a side of Lipitor. Mmmmm...cheesy!