Last night, after a thoroughly pleasant dinner with friends Gary, Joanne, Jackie, and John, I nipped into the local liquor locker to pick up a few things.
First on the list was a bottle of Van Gogh Double Espresso vodka. We had just had a couple of Espresso Martinis with dinner, consisting of nothing more complicated than Van Gogh Double Espresso vodka shaken over ice and poured into a Martini glass. SWMBO and I both liked the drink enough to want to be able to make it at home. I may try doctoring it up with a squirt of half-and-half...maybe a sidecar of Kahlua...a little chocolate vodka... Hey, it's fun to experiment!
While I was in the Van Gogh section, I grabbed a bottle of their pomegranate vodka. Last year I had been gifted with same by the lovely
Wiseass Jooette
prior to the Hammerin' in Helen, and we finally killed the bottle last weekend in an orgy of
Pomegranate Pile Drivers
. So I needed to replenish my inventory.
Van Gogh has a
fine array
of other flavored vodkas - eighteen in all, including a regular unflavored version. So far, the ones I've tried have been excellent. I may have to do some more research!
[I should point out that
Three Olives
also has an excellent line of flavored vodkas. I've had the cherry (courtesy of
Richard
and
Holder
) and, of course, the legendary chocolate (thanks to the
Farookin' Hairboy
). There are plenty more Three Olives flavors I want to try, including their
triple
espresso. But Van Gogh gets the nod: every bottle comes with a chunk of genuine human ear in the bottom of the bottle.]
Meanwhile, two bottles on a shelf near the cash register caught my eye...and I
had
to buy 'em: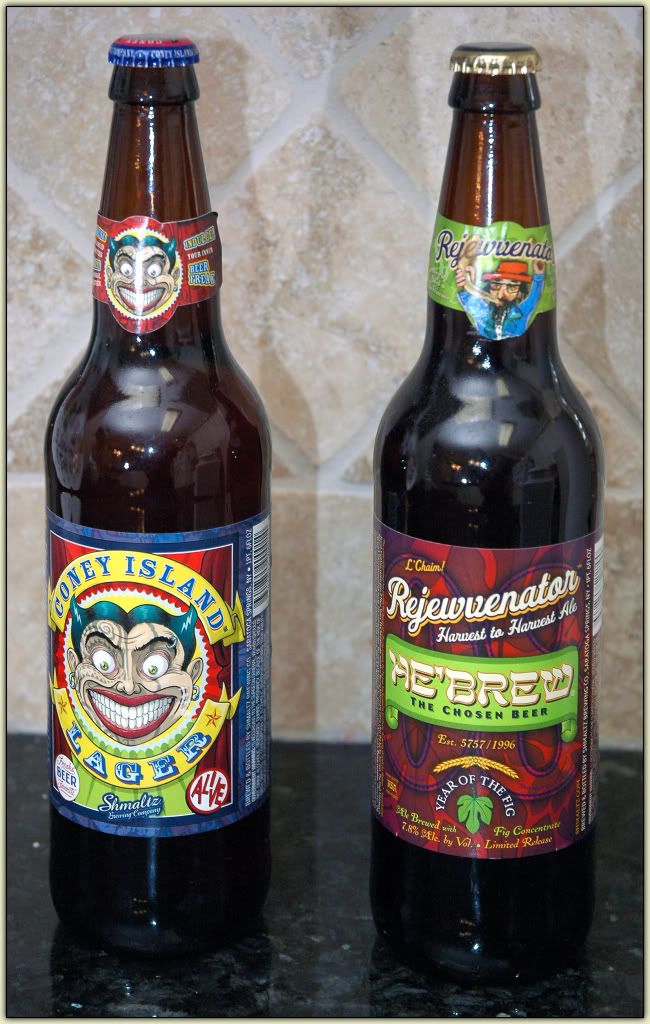 Coney Island Lager and Rejewvenator Ale.
Two fine products of the
Schmaltz Brewing Company
! Schmaltz sounds jokey, but their beer is no joke at all. Their Messiah Bold ("The Beer You've Been Waiting For!") is a fine amber ale, and their heavyweight craft brews are surprisingly good.
Get a load of
this
label...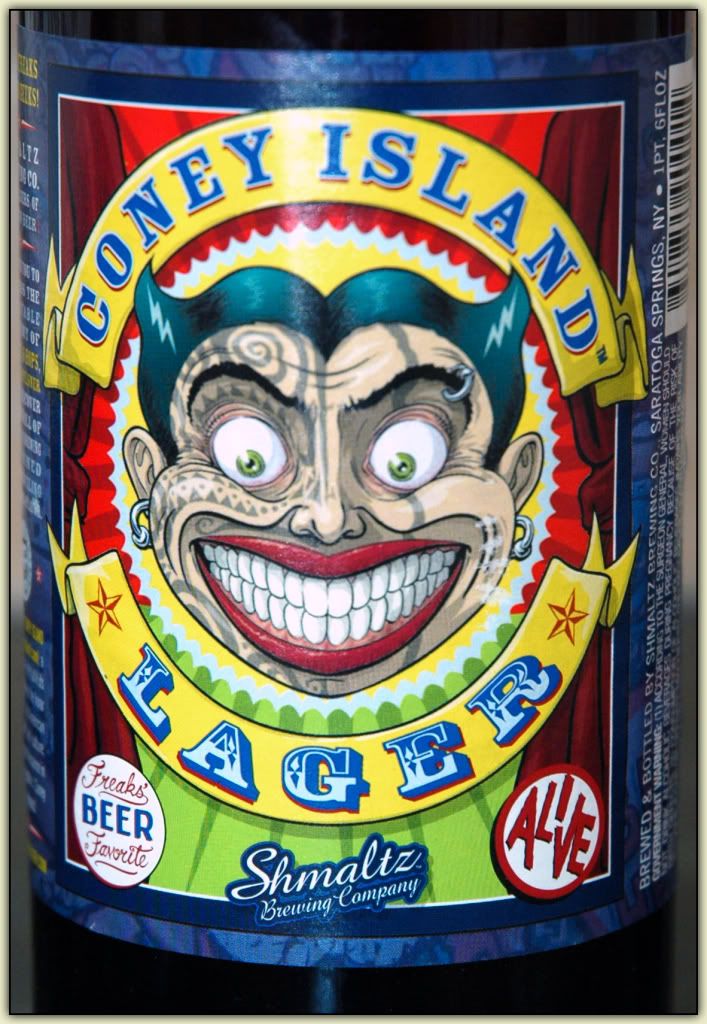 Coney Island Lager
One look at that face - a twisted, malevolent version of the one that used to adorn George C. Tilyou's Steeplechase Park - and I knew that I had a beer that Erica herownself could appreciate. L'chaim, baby!