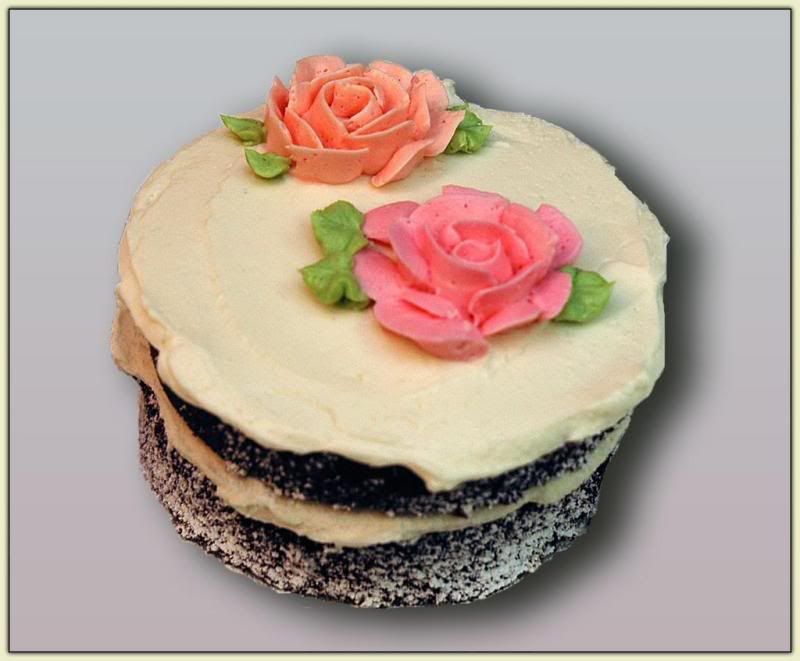 A Back in the Day Baby Cake.
Cast your envious eyes upon this product of the
Back in the Day Bakery
, a pleasant little shop within a short walk of the Mistress of Sarcasm's digs.
This little fella is a Baby Cake. Only four inches in diameter, it may be thought of as either an extra-large fancy cupcake or as a Dinky-Ass Layer Cake. Either way, it is delicious.
Somehow, this one - a gift for our friend JoAnn - survived the potential depredations of Mickey (the Mistress's boyfriend) while it awaited transport to Atlanta; and of a late-arriving, famished Elisson once it was relocated to our refrigerator.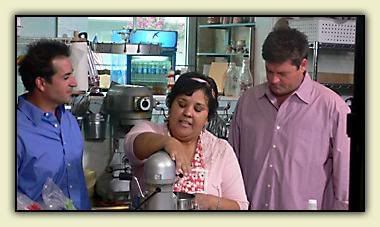 Cheryl, flanked by the Food Network's Bobbie and Jamie Deen.
Back in the Day is an unassuming little place that bills itself as "Savannah's only Artisan Bakery." In addition to the little gems pictured above, they crank out cupcakes, artisanal breads, and the best honkin' brownies on the eastern seaboard. They make a curried chicken salad sammitch that will knock your socks off, thanks in part to a liberal dose of ginger. Best I've ever had. Oh, yeah - and handmade marshmallows. Big, pillowy, square-cut suckers that sit atop a mug of hot cocoa like the Rock of Gibraltar.
Cheryl and Griff, the owners, were recently featured on a segment of "Road Tasted" on the Food Network. And Cheryl has a
blog
, too. Check it out - there's a link on the sidebar as well - and let her know I sent ya!