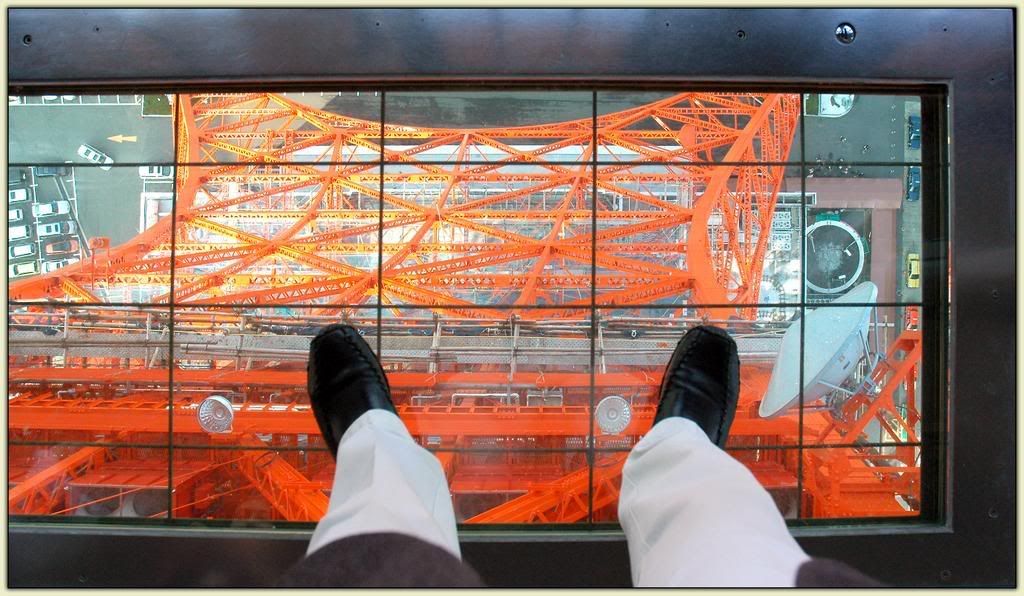 A dizzying view from a "look-down window" at the Tokyo Tower... but my shoes don't mind it a bit.
Today I said farewell to a couple of old friends... and welcomed a couple of new ones.
I'm talking about my Pikolinos walking shoes, the ones in the picture above.
I know that to some people, excessive interest in shoes smacks of outright Loafer-Lightness... or gender confusion at best. And that may be true. But I also think that it is a very male thing to become attached to one or two pairs of shoes, wearing them until they become rags upon the feet.
Women will accumulate an entire closet... nay, an entire warehouse full of shoes. And they will wear many of them on a regular basis, all depending on how well they match the Outfit du Jour. Comfort is a secondary consideration: Women will wear shoes that make their feet bleed, as long as they look good (and as long as the blood doesn't clash with their clothing).
Men, on the other hand, will typically have a more modest inventory of footwear... and they will focus their daily selections on a mere handful. Fashion may count, on rare occasions... but comfort rules supreme. And when they find a pair that's easy on the feet, they will hang onto them like Cass Elliot hanging on to a ham sandwich.
Years ago, I had a pair of Johnston & Murphy loafers that were so comfortable, I couldn't bear to throw them out. I kept replacing the soles until the uppers started to fall apart and the front of the sole would flap like Nancy Pelosi's mouth. Even so, I continued to wear them around the house... until SWMBO finally put her foot down and insisted I toss 'em.
Last year when Elder Daughter and I were preparing to go on our ten-day Japan trek, I decided that I wanted to take only one pair of shoes. They would need to be extremely comfortable - we'd be doing a
lot
of walking - and, at the same time, be presentable enough to pass for dress shoes if the occasion or location demanded it. I found a pair of Pikolinos moccasins, and they fit the bill perfectly.
When they fit you for these suckers, they stand you on a piezoelectric pad that senses the pressure points on your feet. Based on that information, they fit you with special insole inserts. Not quite as precise as custom-molded orthotics, but way less costly - and almost as good. With those inserts in place, those shoes felt so natural it was almost like going barefoot... except without the discomfort of dealing with wet pavement, filth, broken glass, and pointy stones.
Once we got back from Japan, I continued to wear those Pikolinos every chance I got, giving them a rest only when I needed to put on dress shoes. Over the last 18 months, I wore those bad boys so much, I wore 'em out. Holes... and not even in the sole.
Yesterday while out Supporting the Economy with the Missus, we got another pair almost exactly like the old ones. This morning I observed the Ritual of Swapping Out the Insole Inserts, pulling them out of the old pair and sticking them in the new. It was a bittersweet moment, to be sure.
But my feet make new friends easily. I'm sure they'll get along with their new buddies just fine.