Midnight in the Garden
Garden in the Valley
Valley of the Jolly (ho ho ho!) Green Giant!
Years ago - well before we knew we would eventually be moving back to Georgia - a writer named John Berendt came out with a book entitled
Midnight in the Garden of Good and Evil
. The book was a novelized account of the activities of one Jim Williams, a Savannah art dealer and collector, and his involvement in the death of his employee (and lover), Danny Hansford. Williams, who claimed to have shot Hansford in self-defense, was tried four times for murder, finally securing an acquittal on the fourth attempt.
Williams lived in
Mercer House
, a mansion on Monterey Square that had been built by General Hugh W. Mercer, great-grandfather of famed somgwriter Johnny Mercer. After Williams's death in 1990, the house was used as a private residence and was not open to the public; now known as the Mercer Williams House, it has since been converted into a museum.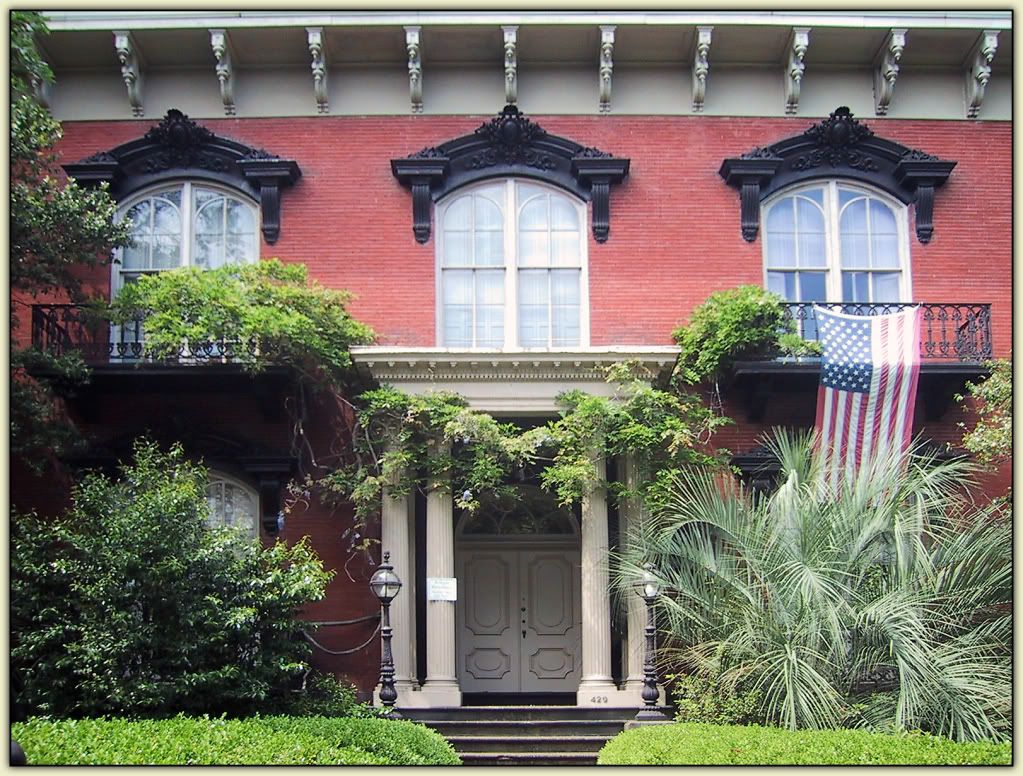 The Mercer Williams House, Monterey Square, Savannah.
Berendt's book - his first - became a bestseller, residing on the New York Times list for
over four years
. In 1997 it was made into a movie directed by Clint Eastwood and starring John Cusack, Kevin Spacey, and featuring Jude Law as the ill-fated Danny Hansford. The movie did not, alas, enjoy the success of the book... entertaining though it was for someone who was now living only 265 miles away from the Location of Interest.
But the book... ahhh, the book. It has a Southern Gothic flavor, and it tells the story of the Williams-Hansford affair by placing the book's author in the midst of the action - a fictional liberty Berendt took. It also serves as a portrait of Williams, a thoroughgoingly fascinating individual, and as well is populated by a small army of local eccentrics and Interesting Characters - all real people, many of whom are still walking the planet... and at least one of whom we've broken bread with.
Savannahians at first were cool toward
Midnight in the Garden of Good and Evil
, taking the attitude of people who had had their dirty laundry aired in public without prior permission having been given. But, over time, their attitudes toward "The Book" seem to have softened. It may very well be the enormous shot in the arm that the local tourism industry received as the result of hordes of interested readers descending upon Savannah to see the very places (and sometimes, people) that they had read about. As they say, "money talks, nobody walks."
We had had The Book sitting on our shelf for a good two or three years before I bothered to pick it up and read it; once I did, I was mentally kicking myself for having waited so long. I loved it! Strangely enough, it was shortly after that that we moved back to Georgia, setting in motion the string of events that would result in the Mistress of Sarcasm becoming a student, and subsequently a resident, of Savannah.
The book's cover features the image of the Bird Girl, a piece of sculpture that for many years adorned a gravesite at Bonaventure Cemetery. That sculpture now resides at the Telfair Museum on loan, safe from potential plunderers and overenthusiastic tourists... but copies (of wildly varying quality) are available in shops throughout Savannah. It's a strangely evocative piece, one that combines innocence and melancholy... and it's one of the first things you will see whan you enter Chez Elisson.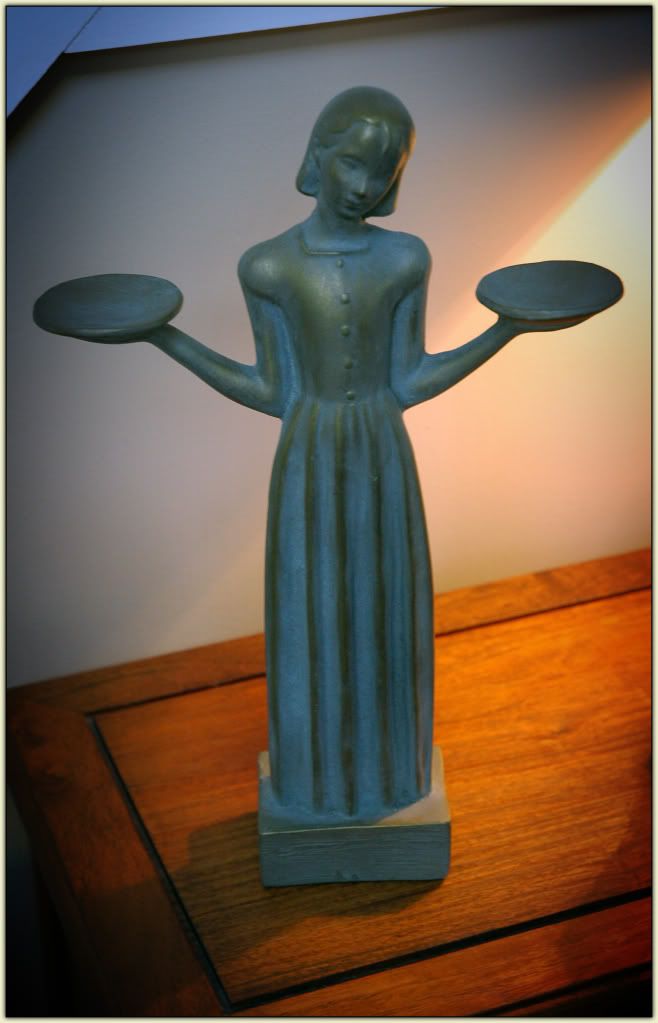 The Bird Girl.
Over the years we've been frequent visitors to Savannah, we've developed a deep affection for the place. It's chock full of interesting architecture and fine restaurants. It was the home of blogger extraordinaire
Rob Smith
, of blessèd memory. (I
still
get referrals from his site, almost three years after his death!) The Mistress has done everything there from working as a concierge, to being featured on a magazine cover, to acting in films, to being robbed at gunpoint (the place does have a few rough edges, still). And this is the
perfect time of year to visit
, if you've a mind to see the real beauty of the Low Country.