Laura Belle and Donnie Joe: the happy anniversary couple.
Laura Belle and Donnie Joe, our friends of long standing, celebrated their thirtieth wedding anniversary this past week.
They've been married almost (but not quite) as long as we have... and when we met them back in the fall of 1981, they were practically newlyweds.
To celebrate, we hosted a little dinner party this evening. Nothing too complicated. A salad of arugula, baby romaine, and butter lettuce with crumbled feta, toasted pine nuts, and a shallot-Dijon mustard-walnut oil vinaigrette. Roasted salmon fillets. Steamed asparagus. Brown rice.
Greens, greens - they're good for your heart.
All fairly uncomplicated, to be sure. Healthy, even. But afters were another matter... for by way of dessert, I went a little nuts. I had seen a recipe for
Amadeus cookies
in the latest
Saveur magazine
, and they looked irresistible... like a cookie version of the famous
Mozartkügel
truffles.
Think of it: a sandwich cookie with two crisp buttery wafers surrounding a filling of ground pistachios and almond paste, kicked up with a liberal dose of kirschwasser... dipped in a chocolate glaze.
Hoo,
boy. Kinda like an Oreo™ for grownups.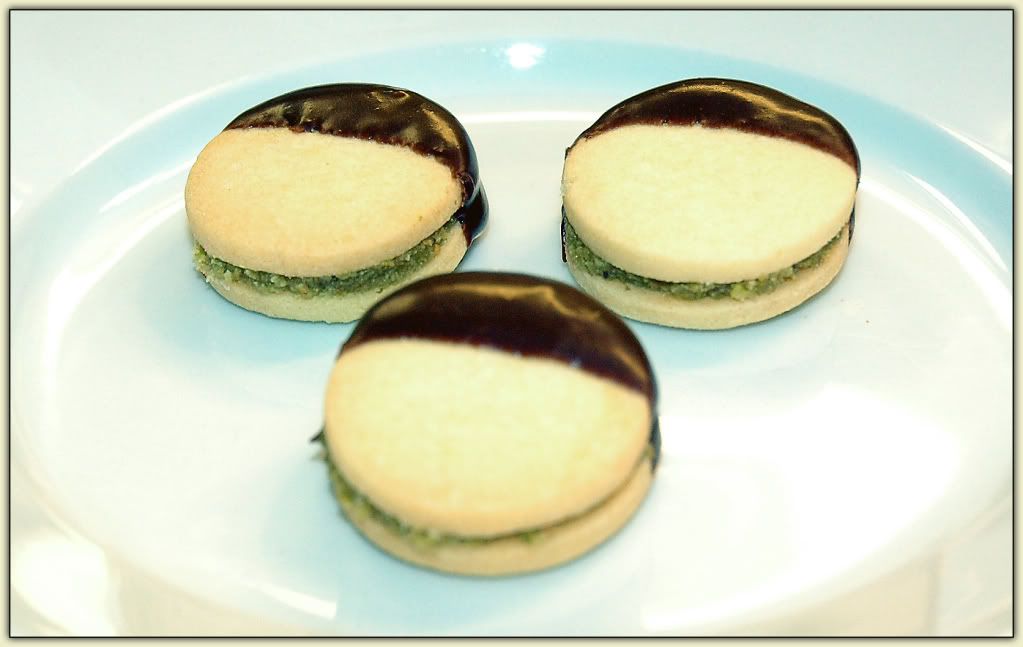 Amadeus Cookies. For the love of Gawd!™
They took a bit of effort to assemble, these Amadeus Cookies, but were they ever worth it! Perfect with an after-dinner coffee, and elegant enough for the most significant occasions... like a thirtieth anniversary.
I wonder how these suckers would taste crumbled up and mashed into vanilla ice cream...