Seneca the Younger's most renowned phrase -
per aspera ad astra
- is one that all astronauts can appreciate, as well as all Kansans, whose state motto inverts the phrases but gets the point across: "Through difficulties to the stars."
I don't know about stars, but difficulties are another matter. We all deal with those to a greater or lesser degree. On a foody note, it used to be difficult to score asparagus, the quintessential spring vegetable, in the dead of winter. Not any more. Nowadays, we can get asparagus all year long... but there still is something that practically shouts "Springtime!" about those crisp green stalks that make your pee smell weird.
Dinner last night consisted of pan-broiled strip steaks, Yukon Gold mashed potatoes with roasted garlic, and asparagus in a blood orange-shallot dressing, the latter a recipe I adapted from one in the latest
Saveur magazine
.
First off, I took two blood oranges and zested one, reserving the zest. Then I trimmed off the peels and cut the segments away from the membranes, squeezing out the juice from the remaining pulp into a bowl. To this I added the juice of one lemon, four tbsp olive oil, and a chopped-up shallot. I whisked all this together with salt and pepper to make the dressing.
The asparagus was easy. I simply trimmed off the bottom inch of each stalk - some people like to peel the stalk bottoms, but this is only really necessary with very thick stalks or with white asparagus. The stalks went into a Pyrex dish with a squirt of water, a couple of tbsp olive oil, and the reserved orange zest. I covered the dish with plastic film and nuked it for four minutes, poured off the liquid, and added the citrus dressing and the blood orange segments.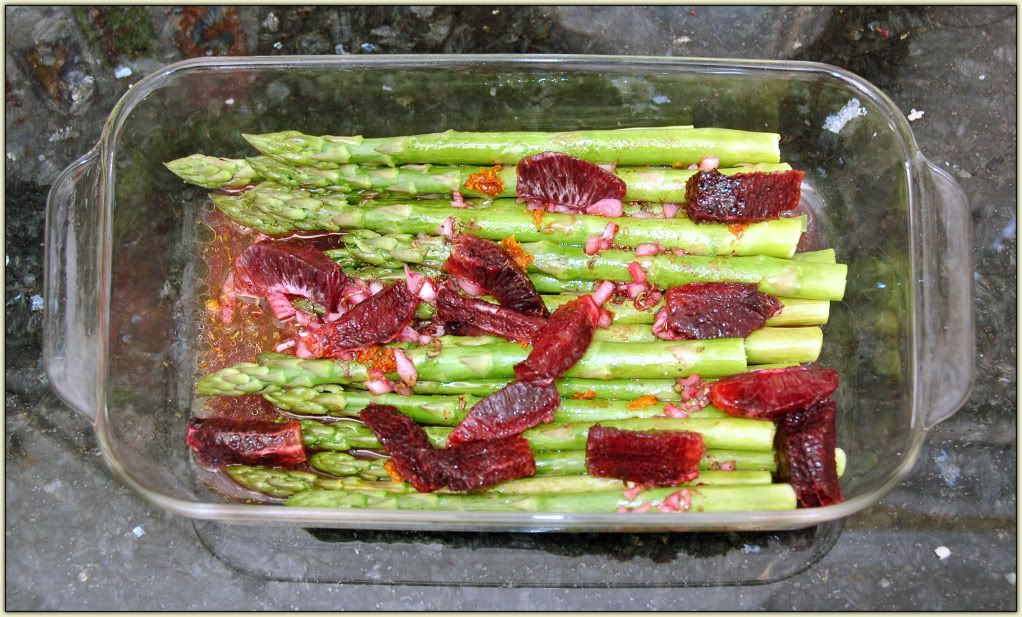 Asparagus and Blood Orange-Shallot Dressing.

You can do this with navel oranges and scallions in lieu of blood oranges and the shallot, in which case you have Saveur's recipe. But I like the flavor and the dramatic appearance of the blood oranges - available here in the early springtime only - and the shallot provides a garlicky kick.
Try it! So what if it gives you a galloping case of Stinky Wee-Wee?