Downtown Fort Worth sparkles at twilight.
Last weekend, we stayed at a hotel in downtown Fort Worth. It was the first time we had done so since our wedding, over thirty-one years ago.
Back then, we had stayed at the Hilton, right across from the Water Gardens – the local landmark so prominently featured in the movie
Logan's Run
. At the time, there were not too many hotel choices in downtown Fort Worth, and so there was a small crop of minor celebrities staying there. Upon our arrival, our room was occupied by Richard Kiel, the actor memorable for his steel-toothed portrayal of "Jaws" in the James Bond flicks
The Spy Who Loved Me
and
Moonraker
, the former having been released that very summer. And the grrrl group Heart was there as well. Barracuda!
The Hilton is still there, but now it's surrounded by taller buildings, making it difficult to spot from a distance. This time, however, we stayed at the Courtyard, AKA the Blackstone, located in the very first skyscraper to have been built in Fort Worth. It's a grand old Art Deco building, one that has had its share of notable guests over the years.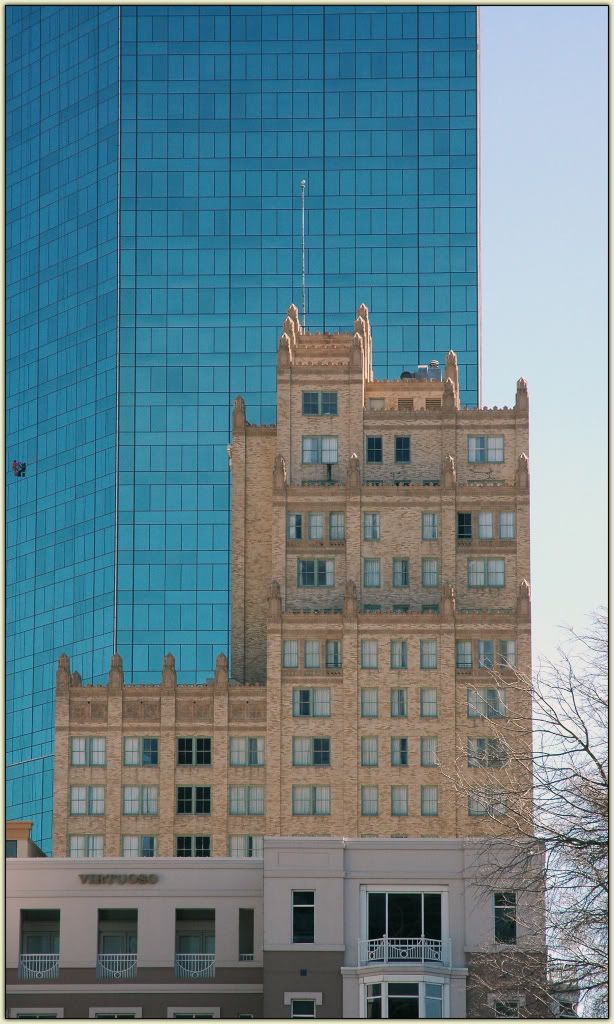 The Blackstone: dignified Art Deco with a backdrop of glass and chrome. Check out the window washer!
Downtown Foat Wuth has undergone a sort of renaissance in recent years, with plenty of arts, shopping, and restaurants. I love the old buildings, with their detailed stonework... and I love the contrast between Old and New that confronts you almost everywhere you look.
The juxtaposition of Old and New.
You gotta love a city that respects its past even as it embraces the future... even if the municipal tap water
tastes like horse piss
.
More pics below the fold, for those who care to look.
Glistening tree branches form a visual counterpoint to the brickwork of a downtown building.
The old Kress department store: Art Deco classic turned Leased Residence.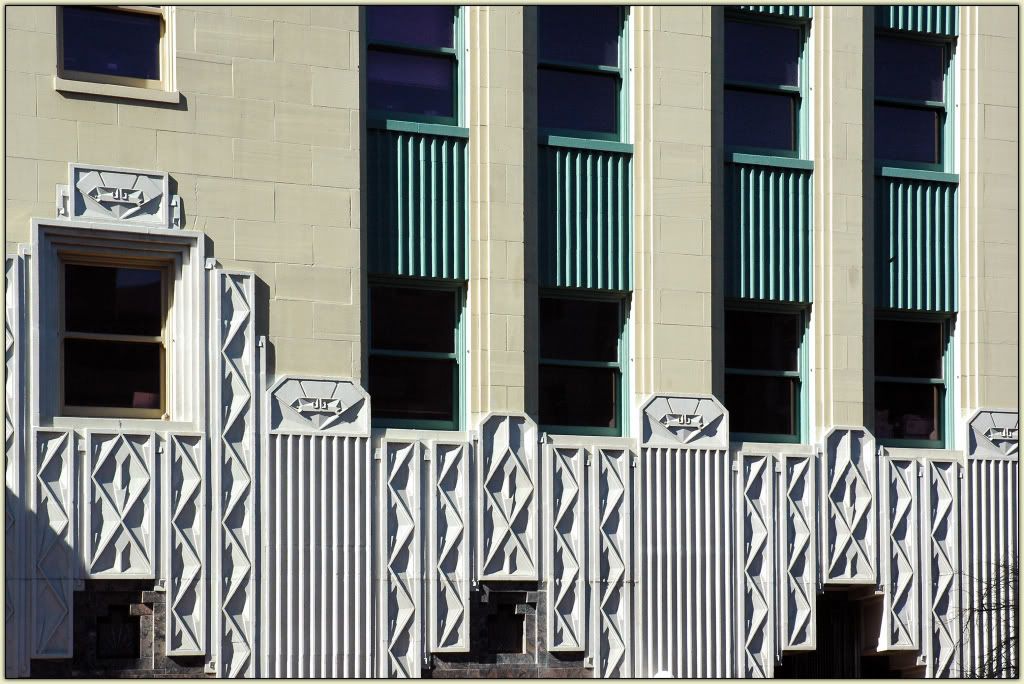 More Art Deco detailing.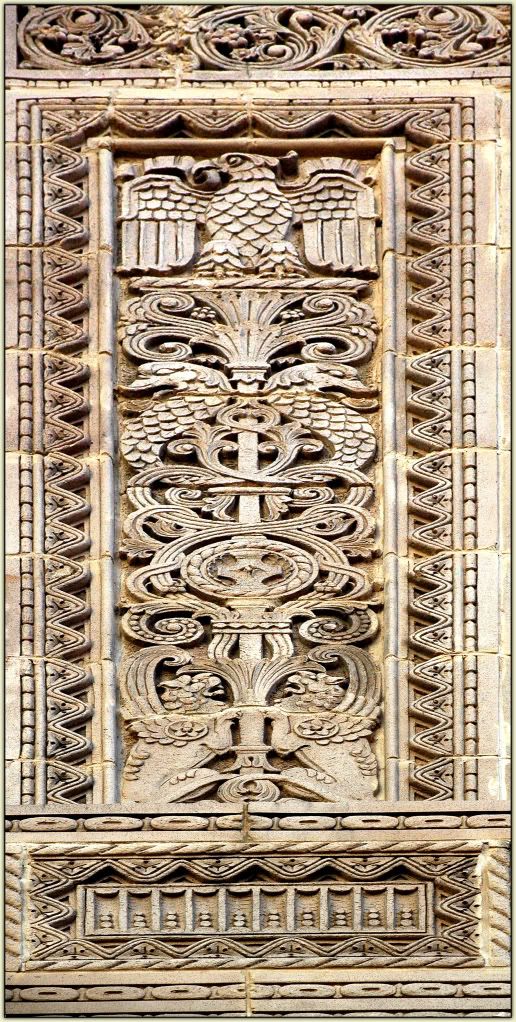 Art Deco designs festoon the exterior of the old Blackstone.
A shrine to famous past guests. [Click to embiggen.]
The old courthouse, a downtown landmark.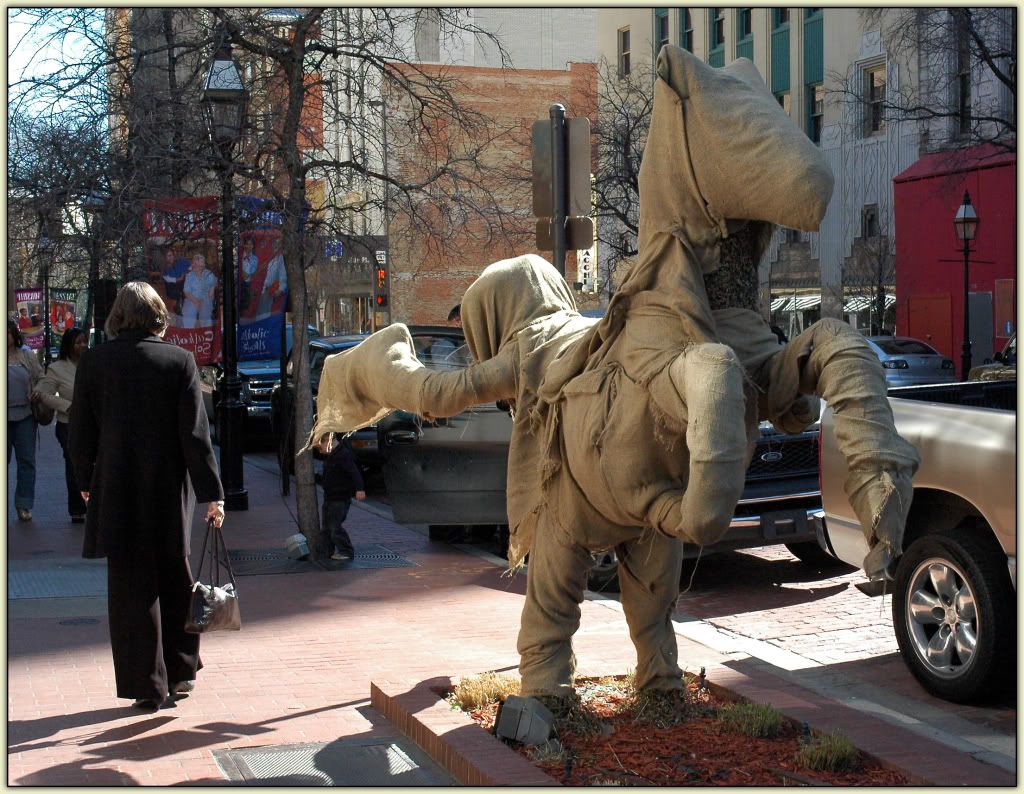 Hi-Yo Burlap! (Who

was

that Sacked Man?)