Last night, we had a few friends over for dinner.
Among them was Houston Steve, who brought a few bottles of wine. There were two bottles of a 2001 Groot Constantia Landgoed South African Syrah, which we decanted before consuming. Both bottles were excellent; the second one, which had been cellared by Steve, was even better than the first. A third bottle - a 2006 Rosenblum Kathy's Cuvée Viognier - had just a breath of sweetness and was packed with fruit, a perfect wine to be enjoyed out-of-doors.
[As if that were not enough, he had prepared a few appetizers to go along with the wine. Asparagus with Gruyère cheese and pine nuts. Mushroom, onion, and Gruyère tartlets.
Hoo
, boy.]
The Missus and I laid on a veritabobble groaning board, following the traditional dictum of "if there are not enough leftovers to feed a small army for a week, you didn't serve enough food." Roasted sweet potatoes. A quinoa, tomato, and feta cake. Braised fennel in a rosemary-Madeira-lime reduction. Grilled chicken with roasted yellow tomato sauce. Green beans sautéed in butter and soy sauce.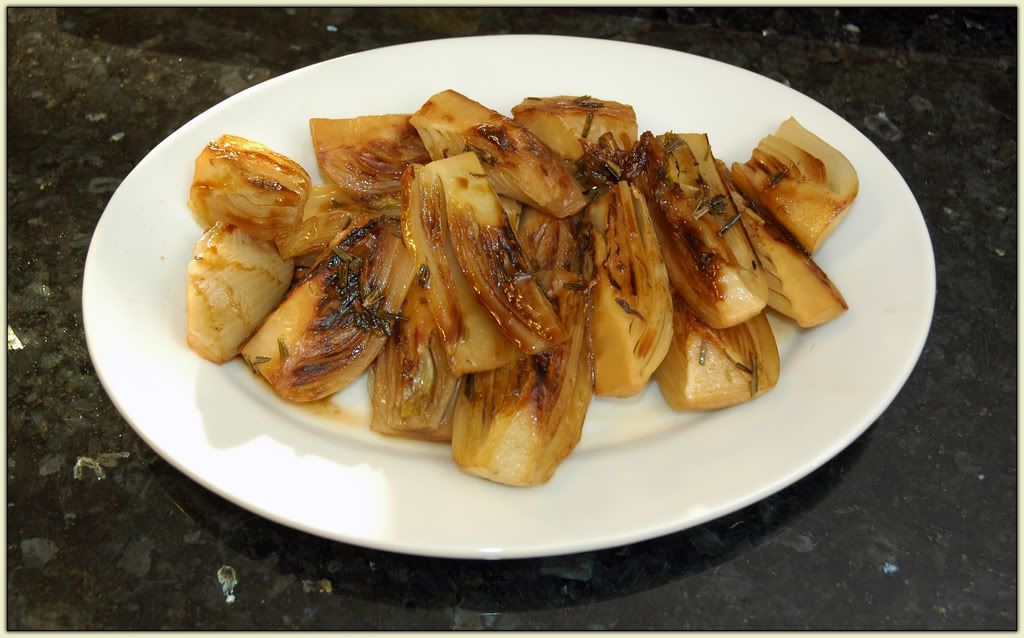 Braised fennel.
Dessert consisted of a big bowl of blueberries, blackberries, apricots and peaches. Glorious...especially with the Jackson-Trigg Vidal ice wine Barry and Malka had brought.
It was one of those evenings where the conversation flowed - as did copious amounts of wine - and friends enjoyed each other's company.
A couple of the dishes we enjoyed came from the newest addition to our Cookbook Collection:
Chocolate & Zucchini: Daily Adventures in a Parisian Kitchen
, by Clotilde Dusoulier. Clotilde is the author of the food blog
Chocolate & Zucchini
, a long-term resident on my blogroll. She's responsible for the quinoa cake and the braised fennel, both of which were excellent. [Of course, leave it to Elisson to experiment on dinner guests by having them eat dishes from recipes we're trying for the first time.]
You'd think we'd have had enough, but She Who Must Be Obeyed is busy pottering around in the kitchen, getting ready for a luncheon she's hosting for a colleague tomorrow. Fourteen people.
Judging by the Orzo Primavera she just stuck in the fridge, it'll be a Fine Feed.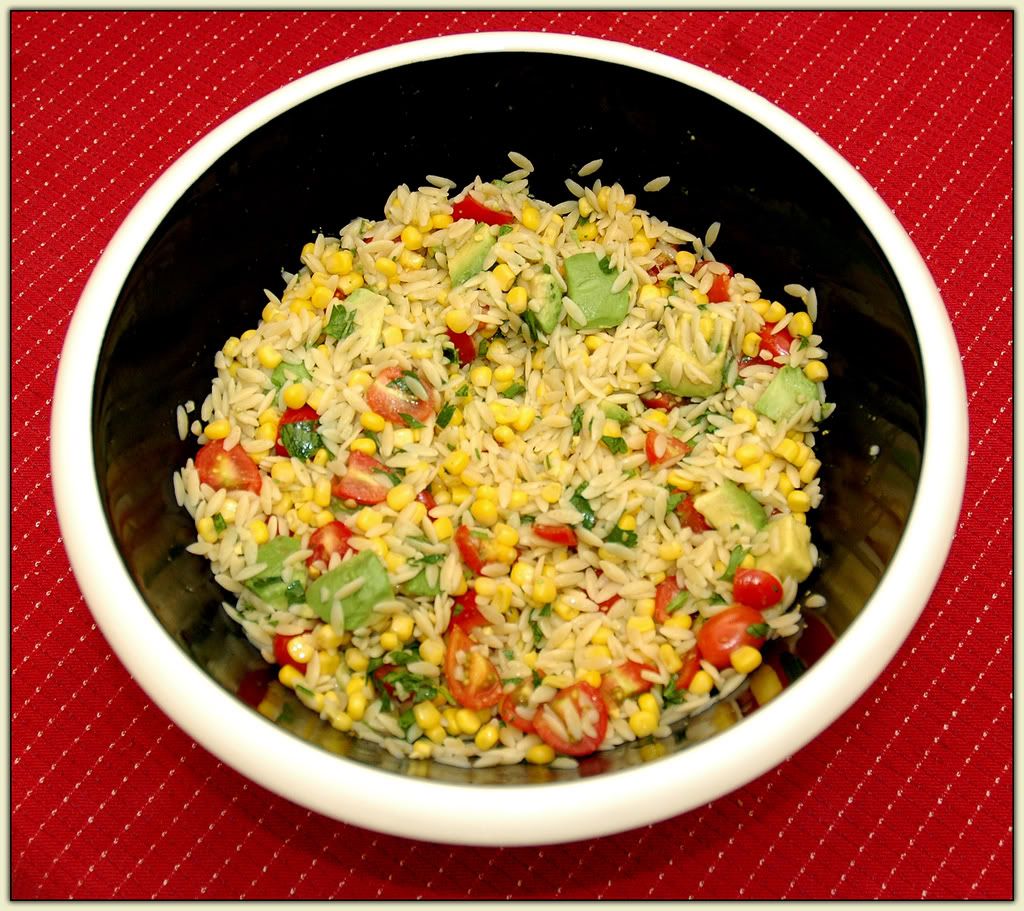 SWMBO's Orzo Primavera.