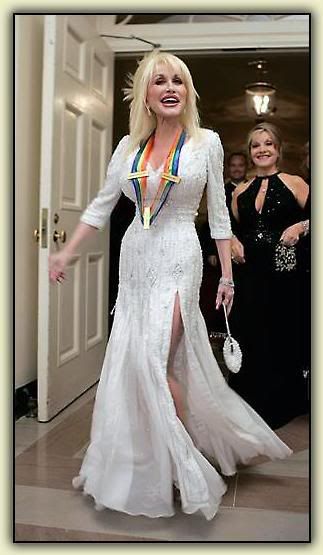 Dolly Parton at the Kennedy Center. Note that each of her massive
kalamatunis
must have its own I.D. badge. Photo ©2006 MSNBC.
There is a story circulating amongst the Purveyors of Groceries...
It seems that Dolly Parton, the noted country music and film star as well as the Empress of
Dollywood
, has decided to expand her extensive commercial interests by investing in the food marketing business.
Her first move, according to sources in Pigeon Forge, Tennessee, will be to consolidate several existing grocery chains in order to take advantage of economies of scale and to gain purchasing leverage with suppliers. Three companies -
Big Star
,
Piggly Wiggly
, and
Harris Teeter
- will form the nucleus of the new Parton enterprise, which will be called...
...wait for it...
...wait for it...
...wait for it...
...
Big Wiggly Teeters
.
[ba dump-bump]
Tip o' th' Elisson fedora to Barry for this infamous News Item.