...is this Chocolate Angel Pie, specially made for our friend Gary's birthday.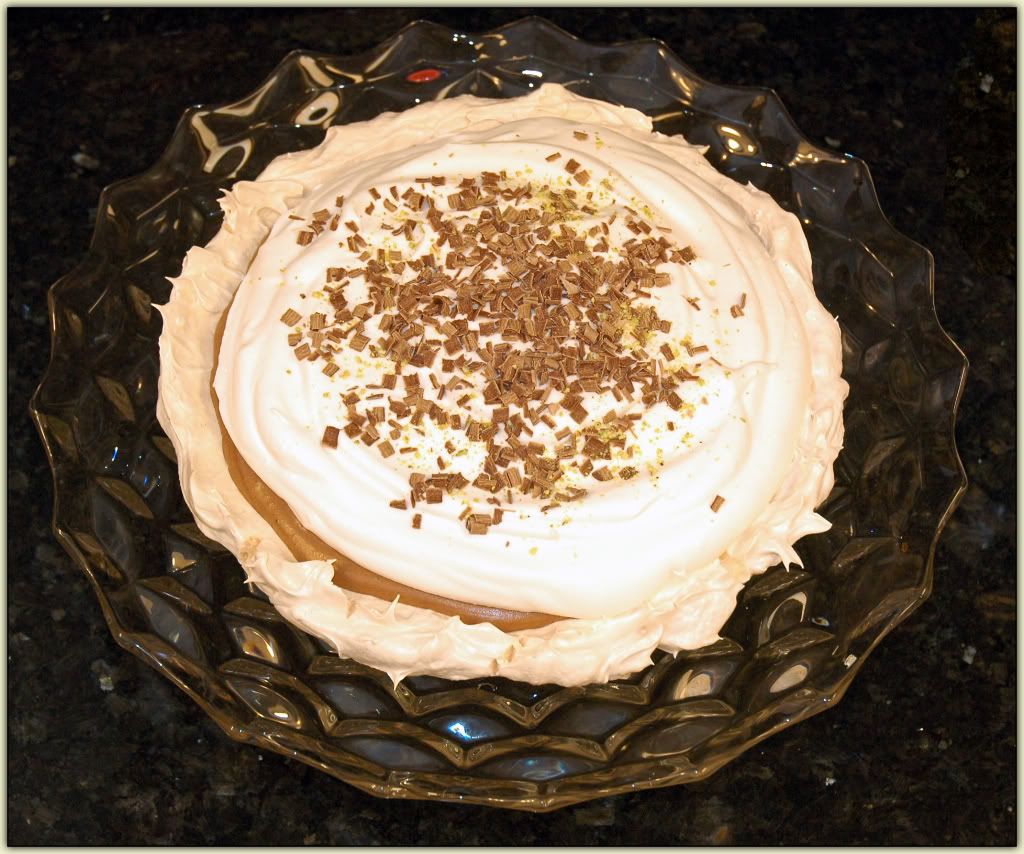 Chocolate Angel Pie. Mmmmmm, yummy.
The Angel Pie is basically a chocolate mousse pie; its main distinguishing characteristic is that, instead of a regular baked crust or a Graham cracker crust (that old Chocolate Pie Standby), it has a crust made of delicious, crispy baked meringue. Which makes it sort of like a Pavlova on steroids.
The first time I made one of these, it was for Elder Daughter's second birthday...over 27 years ago. And it was very good.
I put the recipe aside for a long time, for Elisson does not need to be eating chocolate pie of
any
description, except on rare occasions. But when I trotted it out a couple of years ago, it was a big hit with Gary, who pronounced it the best pie he had ever tasted. Which is why he put in a Special Request...that I make a Chocolate Angel Pie for him on his birthday.
The recipe comes from one of my favorite Kitchen References:
Maida Heatter's Book of Great Chocolate Desserts
. Originally published in 1980, a new 2006 edition is
now available
...but my stained, dog-eared 28-year-old copy is my Chocolatey Bible, a source of inspiration and comfort in every season.
I have no idea what ol' Maida looks like these days, but if she actually eats one-tenth of the things she writes about, each of her ass-cheeks must clock in at a quarter of a metric ton.
Now, if you'll excuse me, I have pie to eat.
Every slice is nice.