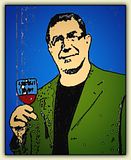 Tonight's Guild event - "Wines of the Great Northwest" - will be held at
Rosebud
, in the Morningside neighborhood just north of Virginia-Highlands. It promises to be a most pleasant evening.
I'm hoping
Denny
will be able to make it this time so I can hear him tell the harrowing tale of his ill-fated ski trip in person. Alas, we won't get to hear the fireworks as he discusses Obamacare and other political third-rails with Houston Steve, as Steve will be away on business. No matter. Politics does not whet my appetite; good wine, however, does so admirably.
Here's the menu, perfect stimulus for your Envy-Glands:
Speaker's wine:
Domaine Ste. Michelle Brut "Luxe" 2003*
First Flight:
Maryhill Viognier 2007**
Chateau Ste. Michelle & Dr. Loosen Riesling "Eroica" 2008***
L'Ecole No. 41 Semillon 2007
Seared George's Bank scallop with pineapple chow chow and black pepper-vanilla sabayon
Second Flight:
Tagaris "Boar Doe" 2006
Woodward Canyon Merlot 2006
Northstar Merlot 2006**
Seared quail breast, Riverview Farms grits, early Vidalia onion chutney and Mexican coke BBQ
Third Flight:
Chateau Ste. Michelle Cabernet Sauvignon "Indian Wells" 2006
Buty "Columbia Rediviva" (Phinny Hill) 2006*
K-Vintners Syrah "Milbrandt" 2007**
Riverview Farms beef shortrib meatloaf, foie gras whipped sweet potatoes, local oyster mushrooms and bone marrow gravy
Dessert
Three Rivers Late Harvest Gewurztraminer "Biscuit Ridge" 2006***
Strawberry shortcake, cinnamon sugar biscuit & vanilla-balsamic syrup
Per my usual practice, I'll note my favorites in a postprandial post update.
Update
Lagniappe
Dunham Cellars Cabernet Sauvignon IV 1998***